Well, this is new. A middle-of-the-week post?  My schedule got all muddled over the weekend, so here we are.
Right on the heels of ConCarolinas, I went down to Beautiful Lake Wylie, North Carolina for my yearly writer's retreat.
My writers group (We collectively refer to ourselves as the Roaring Writers) does this once a year. We rent a house and, for the next week, we workshop stories.
And write.
And critique.
And write some more…
And talk shop.
And write some more…
You get the picture. In between all that, we eat (gods above, there was bacon aplenty this year) and sleep (some of us more than others). An adult beverage or two might have made an appearance (Corpse Revivers, anyone?)
And that's just about it. We're a pretty casual group – indeed, I find it a constant source of amazement that the nine of us mesh as well as we do – but when it comes down to getting the writing done, we get the writing done.
This year, we brought in the man of awesomeness, himself, David B. Coe to share his experience, his insight and wisdom as we (David included) critiqued each other's work.
This is a learning experience that, honestly, is second to none in my opinion.  and I never fail to come back from our retreats burning to keep up the momentum that I've built up over the past week.
It never happens, because there's jobs and stuff like "Real Life" that need attention, but for a good week or two, I've got a kind of writing tailwind that helps me along.
This year it was good to have that extra boost because I came home with more on my "To Do" list than I had when I left for the retreat.
More on that and the phrase, "Crutch Words" in later posts.
So now I'm done with conventions for the year. I've got my eyes on ConFusion in early 2017 and then, probably nothing until ConCarolinas again.
Until next time, I'll just leave you all a view from my writing chair…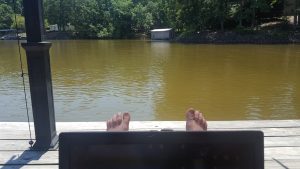 Time: 7:51 PM – ish
Music: Blind Guardian – The Last Candle