Happy Friday Everyone!!
We made it through another week, and what a week it's been.
After quite a bit of scrambling this past week, I think I'm finally on top of my allergies. I confess that it's been rough. I'm taking two different antihistamines concurrently. One is a 24 hour variety, which contains portions of the wet mess that I become without it. The other is a every 4-6 hour type that I've got to provide my drivers license and a small vial of blood before I can even look at the box, let alone purchase it. That covers the rest..to a point. I'm not an asthmatic, but I do get hit hard enough to where it constricts the old airways, and I've got an inhaler – something I don't think I needed to use for the entirety of 2017.
This year I had to crack it open. That's how bad it is. I'm already looking forward to the next Freeze.
So what else has been going on this week?
Turns out there's a whole bunch going on:
First, I've had a book launch!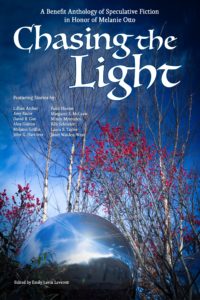 This is an anthology that I and the rest of my writer's group – The Roaring Writers – put together to honor one of our own.
Melanie Otto was a dear friend and I'd like to think that she'd have dug my story.
She'd have dug them all.
We put together this anthology, donating each of our stories to benefit Melanie's partner to help defray final costs.
I miss you, my friend.
You can pick up your copy of Chasing the Light from Amazon.
You can read an excerpt from my story "The Intern" here.
###
Another thing that's been going on is that I've launched a new feature on the blog!
I call it Five Thing Thursday. I don't plan on it being anything elaborate, just five things I want you to know. You can catch the inaugural post here.
###
Finally, I am pretty jazzed to announce that, beginning Monday June 11th, I and some of my fellow authors are going to be kicking off a blog tour titled: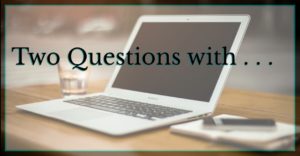 For the next three weeks, we'll each be answering two questions on each other's blogs and it'll be a great time.
Who are the other authors, you ask?
They are:
What questions will we be answering? Well, you'll just have to tune in and find out.
Here's the schedule:
June 11th – Janet Walden-West and I, and Pat Esten and Anne Raven.
June 18th – Pat Esden and I, and Janet Walden-West and Anne Raven.
June 25th – Anne Raven and I, and Pat Esden and Janet Walden-West.
I confess that organizing this has been a learning experience. It's the first thing of it's kind that I've ever tried and it has been mentally heavy in a way that I wasn't expecting.
Don't get me wrong, I've enjoyed working with the other authors to put this thing together. There were a lot of moving parts, concerning the questions, who was going to be involved, when we could set it in motion where it would run for three weeks without interruption.
All sorts of stuff.
And none of it was writing. I'll call it "Authoring," which is a different animal altogether (and which might just be the subject of a post).
I still got up to write this week. Here's another confession: I really didn't want to this morning. Sleep was calling, but by the time I'd gotten up, cleared out my sinuses, etc. I was only looking at maybe laying down for an hour, and those kinds of naps just wreck me.
And there you have it. Be sure to stop by on Sunday for the regular post, and you really don't want to miss the kick off of Two Questions With… on the 11th.
Be sure to stop by the Freebies page for Excerpts, and make sure you stop by the Events Page for the Blog Tour Schedule. You'll be glad you did.
Oh, and GO ALL BLACKS!!!
New Zealand Rugby vs. France on Saturday June 9th!
Kia Kaha, Kiwis!
Be Safe Y'All
Time: 8:37 Pm – ish
Music: Blind Guardian – Bright Eyes