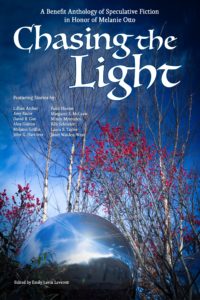 June 1st saw the release of an anthology titled "Chasing the Light." I have a story in there titled "The Intern."
Click for an Excerpt
Like all books, this one has a story behind it.
Once upon a time, New York Times and USA Today bestselling author Faith Hunter and award-winning authors David B. Coe and John G. Hartness agreed to mentor a group of rising authors—the Roaring Writers. Chasing the Light—with tales across the spectrum of science fiction and fantasy—is their celebration of success.
It is also a tribute honoring Melanie Otto (aka Melanie Griffin), one of the founding authors, who died unexpectedly in 2016. Melanie critiqued many of these stories at the Roaring Writers' annual writing retreats, and the authors will never forget Melanie's sparkling eyes and delighted laugh as she found passages she loved in each. With this collection, including stories by Melanie, the Roaring Writers share her light with readers everywhere.
I met Melanie for the first time in 2013 at ConCarolinas. For those of you that don't know me, I'm going to have to back up a tiny bit.
I am a massive introvert. Even with people that I know, and am friendly with, it takes a considerable amount of mental energy to go over and join a conversation. 2013 ConCarolinas was me traveling to a place I'd never visited before, alone, to see folks that I've never, actually, met before.
It was a little terrifying.
Melanie was one of the first folks that I met there to make me feel comfortable. She had an easy smile and a kid of joy around her that made it easier for me to get past the anxiety. It still took me two days to really get comfortable.
It was at the end of the con, at the end of that second day where we started talking about forming a writing group. I remember it being an animated, and exciting discussion. We were going to be a group. We were going to organize annual retreats, after the con, where we'd get together and write, and critique, and grow as writers. It sounded ideal, and I was a part of it.
Just before we all went our separate ways for the year, I was catching up with each of my new friends to say goodbye. One of the last things Melanie said to me was, "We were kinda worried about you. You know, whether you were going to come out of your shell."
I told her that I had been worried about myself too. I told her how difficult the trip had been.
At the end, she asked if she could give me a hug. I said yes, and when the embrace was over, she said, "I'm glad you made it."
That's the kind of person Melanie was.
Over the next couple of years, we met at the retreats, and shared stories. She'd sent me jokes and encouraging emails during a particularly low point in my life. She encouraged me to see the light up ahead.
That's the kind of person Melanie was.
She had a boundless energy, and a passion for the things she found cool, and my world will forever be a little darker without her in it.
That's the kind of person Melanie was.
Although Melanie never got a chance to read the story in this anthology, I think she'd have thought it was cool.
I miss you, my friend.