Hello everyone! Welcome to another installment of Five Thing Thursday.
Here is a list of five things that I want you to know:
Thing #1: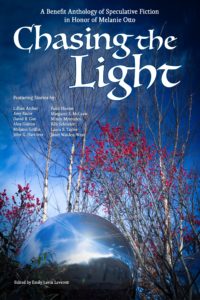 Chasing the light is out!
Actually, it's been out for a couple of weeks now, and it's doing pretty well.
Once upon a time, New York Times and USA Today bestselling author Faith Hunter and award-winning authors David B. Coe and John G. Hartness agreed to mentor a group of rising authors—the Roaring Writers. Chasing the Light—with tales across the spectrum of science fiction and fantasy—is their celebration of success.
It is also a tribute honoring Melanie Otto (aka Melanie Griffin), one of the founding authors, who died unexpectedly in 2016. Melanie critiqued many of these stories at the Roaring Writers' annual writing retreats, and the authors will never forget Melanie's sparkling eyes and delighted laugh as she found passages she loved in each. With this collection, including stories by Melanie, the Roaring Writers share her light with readers everywhere.
This anthology is chock-full of awesome stories. I've got a story in there titled "The Intern."
Click for an Excerpt
Thing #2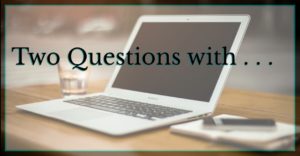 The Two Questions With… blog tour has begun!
Join me, Janet Walden-West, Pat Esden,  and Anne Raven as we each answer two questions on our respective blogs!
What questions will we be answering? Well, you'll just have to tune in and find out.
Here's the schedule:
June 11th – Janet Walden-West and I, and Pat Esten and Anne Raven.
June 18th – Pat Esden and I, and Janet Walden-West and Anne Raven.
June 25th – Anne Raven and I, and Pat Esden and Janet Walden-West.
Come join the conversation with me and some of my amazing writer friends!!
Thing #3
On May 1st, V. E. Schwab gave a Tolkien Lecture at Pembroke College, Oxford that she called "In Search of Doors."
You can find it on You Tube here  I've listened to it three times so far (not all of them back to back, thank you). The talk is moving, thoughtful, and entertaining. Do yourself a favor and give it a listen. It is well worth the time.
Thing # 4
Hummingbirds!! I've got a feeder hanging outside on the porch, right outside my window. They've been coming around for the past couple of weeks and they are a joy to watch.
Thing #5
Margarita Recipe!
I don't remember where we got this recipe from, but it's become the default when we're doing margaritas.
Ready? Here goes!
Start with:
2 ounces of Tequila. Doesn't matter where you get it from, just get two ounces of it.
1.5 ounces of Lime Juice. Do yourself a favor and buy limes and a hand held juicer. Don't buy that crappy, plastic lime.
1.5 ounces of Simple Syrup. Sugar and Water in equal measure, bring it to a boil, done.
A splash – Bear in mind that your definition of "Splash" may vary from mine, but I think you get it – of Orange Liquor (We're using Triple Sec.)
That's it! Mix well, pour over crushed ice, and you can thank me later. Just in time for the weekend, no less.
See you next Thursday!
Until then…
Be Safe Y'All!