Hello Everyone! Welcome to another installment of Five Thing Thursday!
Here are five things I want you to know:
Thing #1: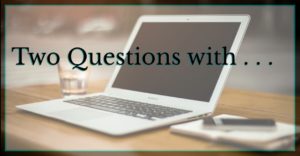 The "Two Questions With…" Blog tour will be going into its Third and Final week on Monday, June 25th
Join me, Janet Walden-West, Pat Esden,  and Anne Raven as we each answer two questions on our respective blogs!
What questions will we be answering? Well, you'll just have to tune in and find out.
Here's the schedule:
June 11th – Janet Walden-West and I, and Pat Esten and Anne Raven.
June 18th – Pat Esden and I, and Janet Walden-West and Anne Raven.
June 25th – Anne Raven and I, and Pat Esden and Janet Walden-West.
Come join the conversation with me and some of my amazing writer friends!!
Thing #2:
In an attempt to broaden my horizons a little bit, I challenged myself this year to read some things that I wouldn't ordinarily read. This has led me to an interest in the biographies of Creative people.
I'm always interested in finding out how someone got their start, and the paths they took that brought them to where they are as a creative professional.
This last round of books have included some singers and the thing I want you to know is that there is a hell of a lot more to singing than meets the eye.
On some level, I knew that there was work involved, but professional level singing is so far out of my experience that the intricacies went clear over my head until I started reading about them. 90 minutes of warm up was a stunner for me. The sheer number of places in the mouth, tongue, and throat for sound to bounce off of was staggering. And pros are cognizant of this. They can target specific areas to achieve a specific kind of sound. Different kinds of illnesses can impact certain aspects of a professional's voice while leaving others completely untouched.
There is way more to it than I thought, and I think that's pretty cool.
Thing #3:
The New Zealand Women's Rugby team: The Black Ferns recently became the first professionally contracted Women's sports team in Rugby history!
Go Ferns! Go Women's Rugby!! I wish this were a bigger thing in the States.
Thing #4:
I am also making an attempt this year to broaden my horizons musically. I've spent time collecting and listening to new bands (in most cases, new to me) and I plan on mentioning them occasionally.
Unleash the Archers is a Canadian Power Metal band and they are amazing!! If you're into power metal and you're not listening to them…you probably should be.
Thing #5:
If you've been on any kind of social media this week…well, it's a trash fire out there.  The fifth thing that I want you to know this week is this:
Whatever you are struggling with, whatever battles you are fighting, or are about to fight, I want you to know that I see you. I believe in you. Be sure to take the time you need to take care of yourself. You got this.
See you on Friday!
###
Be sure to check out the Freebies Page for story Excerpts