Happy Friday Everyone (Although, technically, it's Saturday by the time this will post…but I haven't been to bed yet, so my brain tells me that it's still Friday. Go Brain!!)
Anyway, For having the day off today, I did a *Boatload* of work. And I'm not talking about those tiny, little Pontoon boats. I'm talking about one of those ships that ship shipping ships.
Kinda like this: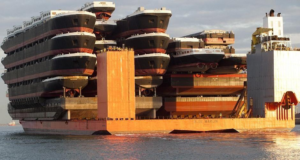 This is a boatload of work…
Anyway, this is why I'm typing this post up in the Wee hours of what, I suppose, is technically Saturday morning, while listening to Unleash the Archers on a loop.
This was a pretty surprising find for me. I bought their latest album, "Apex" on the strength of the Title Track, and "The Matriarch," but the more I listen to this band, the more I like them.
Not that any of this has any impact on why this post is so, freaking late (Better late than never, right?  Right?)
Suffice to say that I got caught up in the real world. I got up at 7:00 this morning and was going non-stop until about 11:00 PM. I got a ton of stuff done, and *None* of it was writing.
I put in nearly a 12 hour day doing some pretty heavy farm-work, and I still feel that I haven't done anything, because I let the writing slide.
I confess that I'd love to be able to tell you that this feeling goes away, but it doesn't.
Realistically, I know this is foolish. But there it is. It doesn't get any better, but you do develop coping strategies.
How?  Damn, that's something I also wish I could tell you how to do.  What works for me, might not, necessarily work for you, but here's how I do it:
I recognize that Writing is a very long game.  I've said it before: Writing is a marathon, not a sprint.
Some days, for a multitude of very good reasons, you simply won't be able to get the writing done.
And that's ok. You can always come back to it tomorrow.
Which is what I plan on doing.
How about you?
###
Be sure to check out the Freebies page for story Excerpts.
Be sure to check back Sunday for the regular post.
Until then…
Be safe Y'All!!