Hello Everyone!
Here on rare Wednesday Post, I'm happy to host Donald J. Bingle as one of the stops on his "Wet Work" Blog tour.

Donald stopped by for a Q&A session and to let Y'All have a quick look at an excerpt from Chapter 1 of "Wet Work."
After checking out all of the awesome to come, be sure to read down to the end of the post for a chance to win a $25 gift certificate!
So, without further ado, here's Donald's Q&A:
ME: What is one thing that you've done for research that you've struggled to explain to a non-writer?
DJB: One of my books involves a big battle in virtual reality and I had an agent who simply wouldn't believe that "anyone would program a game to do the things I described." I tried to explain that virtual worlds weren't pre-programmed clips triggered by pushing a button, but interactive events which occurred in real time depending on what multiple people did and the pre-established characteristics of their virtual weapons, but finally just forwarded her some YouTube clips of fights from various MMORPGs/games. On a more writerly note, the average friend doesn't want to talk with you about point-of-view shifts, nested flashbacks, book-end structure, or dialog tags. Just tell them you've written more words on the current project since the last time you saw them and they'll be happy.
ME: What drew you to writing?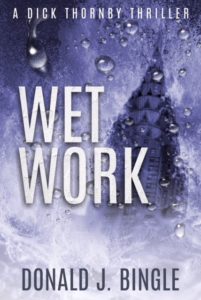 DJB: I was in plays in high school, the Parliamentary-style debate in college (where the topic, time, and place of the debate changes every round), then played a lot of table-top roleplaying games. That led to writing tournament rpg adventures, then source materials and adventures for gaming companies, then stories (including tie-in fiction for Dragonlance, BattleTech, and Transformers), then my own stories and books.
ME: If you could give Past You one piece of advice, what would it be?
DJB: Writing is like acting or direct sales. Almost no one makes a fortune doing it and there is a lot of rejection along the way.
ME: What does a typical writing day look like? Any pre-writing rituals?
DJB: I don't write every day. I don't write every week. Many days are spent on trying to find markets for stuff I've written or marketing the stuff published. When I do write, though, I write very fast and for long sittings: no music, no phone calls, no emails, no interruptions.
ME: Do you see any issues in your genre and how are you addressing them?
DJB: I write in a lot of different genres, so I'll answer that with a statement which applies across the board to horror, scifi, mystery, thrillers, and fantasy. Writing genre fiction does not pay well. It pays less than it did a half century ago, without adjusting for inflation. So, aside from charity compilations, I don't work for free and I don't deal with publications or companies which treat writers poorly, because it just encourages them to keep doing that. I also have no patience for people who steal books or videos and repost them for free. It disrespects the craft and discourages good writers from writing more. Act professionally and demand that those about you do the same.
Thanks very much, Donald, for taking the time to answer those questions.
On with the Excerpt:
Chapter 1
Dick Thornby stepped off the pathway in Singapore's Jurong Bird Park and eased into the foliage near the hundred foot tall waterfall dominating the spacious confines of the African Aviary. He tugged at his cap, making sure it nestled low against his aviator-style sunglasses, then eased off his backpack, accessing a pocket and slipping on a pair of latex surgical gloves. He was taking a chance by sneaking into a prohibited area to find cover, but he figured waterfall maintenance was generally handled when the park was closed. A pair of scenic overlooks atop the falls normally provided tourists a panoramic view of the four acre aviary, as well as his chosen perch. But he'd dropped a couple of clapboard signs indicating the pathways to those lookouts were closed for maintenance, guaranteeing his privacy.
That the waterfall was one of the most picturesque and most photographed features in the sanctuary didn't help his tactical situation. But between his camouflaged clothing and his "act like you belong wherever you go" movements, he didn't think gawking tourists would raise any issue. A suppressor threaded onto the end of the rifle barrel would minimize any flash when the time came to take his shot, as well as lessening the rifle's normally booming report.
Escaping after the fact would be good, too, and taking up a position in the enormous bird sanctuary literally as far from the park entrance as one could get was tactically suspect. On the other hand, there was no denying the top of the falls was the best spot to pick off his target during a scheduled meet with a local thug seeking to up the quality and the quantity of his gang's armaments.
He was willing to take some risks to pop Pao Fen Smythe—the Hong Kong arms merchant who had indirectly caused the death of his last partner and been the moving force behind his son's crippling third-degree burns. Yeah, he'd risk a lot to take out Pao Fen Smythe …
###
About the Book
Title: Wet Work
Genre: Spy Thriller
Publication date: June 11, 2018
Publisher: 54-40' Orphyte, Inc.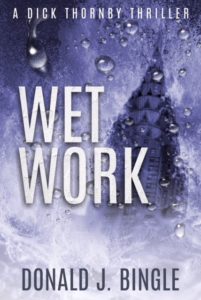 Dick Thornby is not Hollywood's idea of a spy. In his rough and tumble job there are no tailored Italian suits, no bimbos eager to please, and no massive underground fortresses built by evil overlords seeking world domination—just an endless series of sinister threats to the safety and security of the billions of mundane citizens of the planet. Sure, Dick's tough and he knows a few tricks to help him get out of a tight spot, even if his boss accuses him of over-reliance on an abundance of explosives. But he's also got a mortgage, a wife upset by his frequent absences on "business" trips, and an increasingly alienated teen-age son who spends way too much time playing in gaming worlds on the computer.
After taking personal revenge on the criminal behind both his son's injuries and the continued disintegration of his marriage, Dick Thornby is teamed with Acacia ("Ace") Zyreb, a young, female agent from the East European office of the Subsidiary, to deal with the mystery behind coordinated hacking of the braking systems of several car models.
Doing his best to maintain his vows to his wife, Dick struggles to deal with the inexperience and provocative attitude of Ace on her first non-European mission. Their somewhat combative investigation takes a left turn by uncovering a much more sinister threat to the world and to Dick's family. He's willing to risk his job, his partner, and his life to eliminate the threat, but the clock is ticking.
###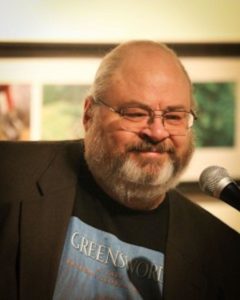 Donald J. Bingle is the author of six books (The Love-Haight Case Files (with Jean Rabe); Wet Work; Net Impact; GREENSWORD; Frame Shop; and Forced Conversion) and about fifty shorter stories in the science fiction, thriller, horror, fantasy, mystery, steampunk, romance, comedy, and memoir genres. He was the world's top-ranked player of classic role-playing game tournaments for the last fifteen years of the last century. He once received a surprise package in the mail with a lapel pin thanking him for his "contributions to time travel research." He'll really have to get around to doing that research some day soon. He is a full member of the Science Fiction & Fantasy Writers of America, Horror Writers Association, International Thriller Writers, International Association of Media Tie-In Writers, and Origins Game Fair Library. More on Don and his writing can be found at www.donaldjbingle.com.
You can pick up your own copy of "Wet Work" at these fine locations:
Wet Work, Amazon: http://a.co/1qni4lH
Wet Work, Nook: https://www.barnesandnoble.com/w/wet-work-donald-j-bingle/1128291702?ean=2940159029973
Wet Work, Kobo: https://www.kobo.com/us/en/ebook/wet-work-5
Wet Work, PRINT: http://a.co/2il1eWS
###
Giveaways
As promised, here is your chance to enter a Rafflecopter giveaway for a $25 Gift Certificate.