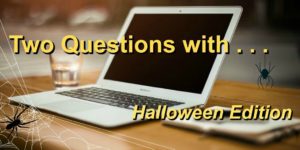 Two Questions with… has returned from the grave, and this week I am very happy to host my friend Pat Esden on the second round of the "Two Questions With (the Halloween Edition)…" blog tour.
Huge thanks to Pat for taking the time to participate. I'm really glad you came along for the ride.
Now I'm going to retreat back into the shadows and let Pat do her thing:
Hi Ken, thank you for inviting me to be a guest on your blog today. And, Happy Halloween! Only a couple more weeks until the big day!
How do you handle frightening elements in your writing?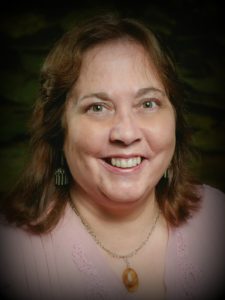 I generally handle frightening elements in two ways. First is the slow psychological build, little hints and chills that lead the character inevitably closer and closer to having to face their worst fear. The reader knows it's coming, but they don't know when and they are worried if the character will survive emotional and physically. The second kind of element is the unexpected shock—the twist that a reader doesn't see coming. The knife in the dark. The poisonous spiders dropping from the cracks in the ceiling and down onto the sleeping character's face . . . It's also lot of fun to provide no buildup, to fool the reader with sunshine and hearts, then wham hit them where it hurts.
Is there a difference between Horror and Thriller? If so, what is it?
I think there are a lot of novels and movies where Horror and Thriller merge, especially in subgenres such as gothic fiction or psychological horror. My series lean toward the thriller category rather than horror because I go for a sense of fast pace and suspense instead of a heavier sense of dread, followed by shock.
###
Pat Esden would love to say she spent her childhood in intellectual pursuits. The truth is she was fonder of exploring abandoned houses and old cemeteries. When not out on her own adventures, she can be found in her northern Vermont home writing stories about brave, smart women and the men who capture their hearts.
She is the author of the contemporary paranormal Dark Heart series from Kensington Books, and the upcoming Northern Circle Coven series. Her short fiction has appeared in a number of publications, including Orson Scott Card's Intergalactic Medicine Show, the Mythopoeic Society's Mythic Circle, George Scither's Cat Tales Anthology, and the Fragments of Darkness anthology.
Website: http://patesden.com
Twitter: https://twitter.com/PatEsden
Facebook: https://www.facebook.com/PatEsdenAuthor/
BookBub: https://www.bookbub.com/authors/pat-esden
Instagram: https://www.instagram.com/patesden
BLURB:
HIS DARK MAGIC (Northern Circle Coven series book 1)
Coming December 11th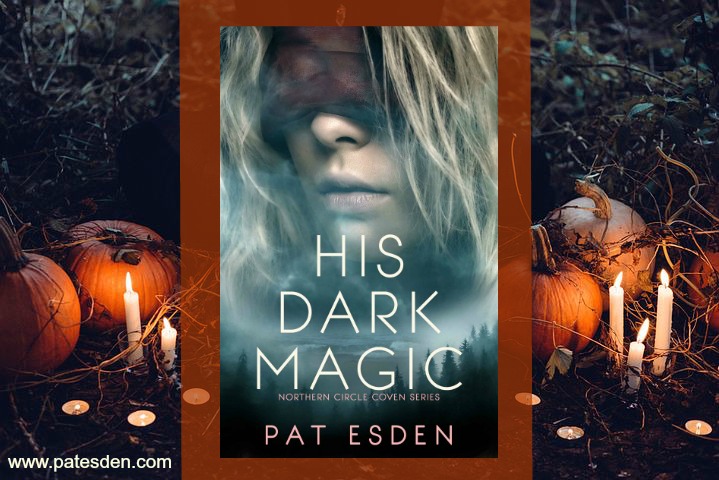 Its power is legendary. It can fulfill every impossible magical desire. But for one young witch seeking redemption, the Northern Circle coven will challenge her skills—and her heart—beyond measure.
One tragic impulsive mistake made Chloe Winslow an outcast to her influential magic family. As a medical student, she wants to combine science with sorcery to heal those she hurt and right her wrongs. But brilliant, charismatic Devlin Marsh re-routes her plans with a once-in-eternity offer: membership in the exclusive Northern Circle, a mysterious Vermont coven known for pushing the limits.
Enthralled by Devlin and their mesmerizing mutual attraction, Chloe makes a dangerous sacrifice to help the Circle's high priestess awaken Merlin himself—and learn his timeless cures. But a foreshadowing soon causes Chloe to doubt the Circle's real motives, as well as Devlin's . . .
Now Merlin's demonic shade is loose in the human world, while Chloe and Devlin's uneasy alliance will pit them against ancient enemies, malevolent illusions, and shattering betrayal. And with the fate of two realms in the balance, Chloe must risk her untried power against a force she can't defeat—and a passion that could destroy her.
Amazon: https://amzn.to/2KACQeT
Barnes & Noble: https://bit.ly/2OjNwB3
iTunes: https://apple.co/2vOVIRW
Kobo: https://bit.ly/2vsYbCa
Google Play: http://bit.ly/2OPIflC