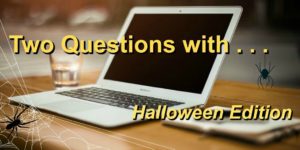 Two Questions with… has returned from the grave, and this week I am very happy to host my friend Rekka Jay (Writing as R. J. Theodore) on the Fourth round of the "Two Questions With (the Halloween Edition)…" blog tour.
Huge thanks to Rekka for taking the time to participate. I'm really glad you came along for the ride.
Now I'm going to retreat back into the shadows and let Rekka do her thing:
Thanks so much for having me on your blog, Ken! Halloween is my favorite time of year and it's exciting to swap spooky anecdotes with other like-minded authors!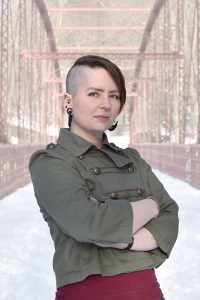 What Horror trope do you love to exploit?
I'm definitely in the Mary Shelley camp of Oh-Lord-what-have-I-done? horror! I like my characters to not only be horrified by events but feel at least partially responsible for them. This probably has to do with my personal experience. I've lost a lot more sleep to guilty conscience and anxiety than to worrying about what's in the closet. I never had a closet in my room, as a child, you see…
Which Horror Trope would you love to see die, and never return from the grave?
The Gypsy Curse / Indian Graveyard. I recognize that a lot of our cautionary tales rose out of xenophobia and racism, but with the curses especially, we really need to be more progressive and stop falling back on a trope that is not only archaic, but contemporarily harmful to an entire people. Somehow, even though the protagonist is often shown doing something wrong to earn the curse, it's the cruelty of the one who dooms them to the curse that lingers in our cultural memories.
Thank goodness most people seem to enjoy the idea of a person getting what they deserve, because it's an easy shift to move forward to that.
###
R J Theodore is a graphic designer, illustrator, and author. Her first series of novels, the Peridot Shift series, launched in March 2018 with the publication of FLOTSAM through Parvus Press. A Science Fiction and Fantasy enthusiast of any format, she draws from a lifetime of SFF influences to craft stories with irreverent physics, irresponsible gods, and unforgettable characters. She writes both long-form novels and shorter works, including the ongoing self-published Phantom Traveler novella series which began with THE BANTAM and continues, one episode at a time, for her supporters on Patreon.
Mx. Theodore first began inventing worlds before she could spell the words it took to describe them. Her earliest stories were rendered in pipe cleaners, shoe boxes, and modified plastic milk jugs. There is, somewhere on a floppy disk in a landfill, a partially written Star Trek fanfic that the Parvus Press team would pay a bounty to retrieve. Of Mx. Theodore's more recent story crafting, SFF author Jennifer Foehner Wells says, "R J Theodore is a fresh voice who will soon be on your must-read list!"
Mx. Theodore is fueled by coffee and churrasco.
WEBSITE: https://www.rjtheodore.com
TWITTER: https://www.twitter.com/bittybittyzap
INSTAGRAM: https://www.instagram.com/bittybittyzap
FACEBOOK: https://www.facebook.com/groups/rjtheodore
PATREON: https://patreon.com/rjtheodore
======
THE BANTAM (A Phantom Traveler Novella): http://amzn.to/2mfNqxX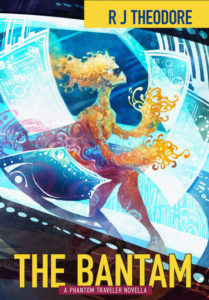 Ehli never expected much from her life. She's an Iscillian, designed in a lab to serve as custodian for a Xendari merchant crew, with no future beyond the warranty of their starship. When she reads two previously overlooked lines in the ship's operations manual that cast doubt on everything she thought she knew about her existence, the satisfaction she once found in her simple life dissolves into an unsettling obsession with learning the truth.
She is expected to report for duty, complete her assignments, and rest until her next shift. To put the needs of the ship and crew before her own. She knows better than to expect the oh-so-vertebrate Xendari to help her find the answers she craves, but every step she takes investigating her origins – and that of all Iscillian serving as bioaccessories across the galaxy – takes her further from the life she knew, and deeper into danger.
But she can't ignore what she's learned. She must know what secrets have been kept from her, and she's willing to risk everything to uncover them.