Happy Friday Everyone!!! We Made it!
So you may have heard earlier that, last week, I finished the first draft of my current project: Jade Moon Waning
I went a little nuts last Sunday, and stayed up much later than I should have, but by then I was so close to the end, I couldn't stop.
It's a funny thing, finishing a first draft. For me, it means a period of mental and physical house-cleaning. OK, maybe not the entire house, but certainly my writing space. This time was no different. I spent Monday compiling the project into a Word doc, and printing it out. At 564 pages, the printing took up most of that time.
Once I had the printout, I put it away. I'm not planning on looking at it until the First of December. That left me with two things to do:
Decide what to work on for the month of November.
Cleaning house – so to speak.
As far as point 1 goes, I'm looking at at "Short" story that never went anywhere. At 53 pages, it's pretty easy to guess why it didn't go anywhere, but after a day of looking at it, I know why it didn't go anywhere, and I'm already putting the editing pen through some heavy use.
Point 2 is probably going to last past the first frenzied couple of days where I got rid of a boatload of had-written stuff that I had, concerning the current project and a past project. Most of it I had already transcribed into an electronic format, the rest was stuff that I jotted down to include later (or not, depending on how the editing went).
Regardless, it was stuff that I didn't need, but hadn't gotten rid of because I keep stuff like that until the pile gets too top-heavy and falls under its own weight.
I'm also cleaning things up electronically. My back-up solution has been kinda haphazard at best, and more than a little time consuming. Something needed to be done.
So I've been working on that, and I'm sure that Future Me will be pretty happy with Present Me.
Speaking of Future Me, I'm typing this up early because, on Friday, I'll be on my way to the Windy City to spend Saturday at Soldier Field for an awesome day of Rugby.
After this, there's Sunday's blog post and Monday's Blog post.
With a little bit of planning, I should be able to pull it off.
See you on Sunday!
What am  I reading this week?
Star Wars: Wedge's Gamble by Mike Stackpole.
The War of Art, by Steven Pressfield
What am I listening to this week? The Hybrid Author Podcast.
How have I been relaxing and refilling the well? This Weekend….RUGBY!!!
###
Be sure to stop by on Sunday for the usual blog post!
Stop by the Freebies page for story Excerpts.
Also check out the Events page for info on the…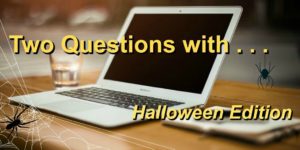 Blog tour that wrapped up last Monday.
Next Monday I'll be posting a recap of all of my answers, plus two bonus answers.
Be sure to check it out!