Hi Everyone! Today, I am totally jazzed to be one of the stops on Faith Hunter's Circle of the Moon Blog Tour!

This time around, I am bringing you both an excerpt from Circle of the Moon, and a Q & A with Faith!
Be sure you read down to the end of the post for the chance at a great giveaway!
I know you can't wait to get started, so lets kick things off with Five Questions with Faith Hunter!

Me:What is one thing that you've done for research that you've struggled to explain to a non-writer?
Faith: Hah! Everything? I once had a character who made jewelry, starring from stone (she was a lapidary) and she worked with local miners, and I spent a year researching surface mining and stone-cutting techniques, as well as jewelry making. I'll never be as good as my character, and I'll never do lapidary work, but I still love making jewelry out of found objects or pre-drilled stones. I think the immediacy I added to the book was invaluable, from the feel of wet rough, to the vibration of the machines, to the filth after a day's work, to the effect that working stone had on her hands. It revealed her character and made her believable. Research is crucial.

Me: What is your "Go-to" thing that you treat yourself to when you finish a first draft?
Faith: I used to open a bottle of wine and enjoy a lovely meal. After 40+ books, I just like to turn off the computer and veg in front of the TV. I still love writing, but the process is organized and timed and, well, it's a job. It's what I do 7 days week. And I now treat myself when my heart wants to be treated, not for reaching a goal. I treat myself for no reason at all. It's hard to be kind to yourself, but I'm learning.

Me: What attracted you to your genre(s)?
Faith: Magic! Mystery! Mayhem! The three big Ms. The bad guy getting his comeuppances and the hero getting the rewards, the love, the joy, after surviving all the above-mentioned MMM.

Me: Of all your characters, which would you most prefer to have at your back in a dark alley?
Faith: I have saved this for last and came back to it. Again. I honestly don't know. I think the answer would change every day, maybe every hour. Of course I'd settle for any of the characters! But right now, with my first cup of tea in me and the news on overhead, I have to say…A SWAT team member, fully armed and with backup on the way. LOL

Me:Of all your characters, which would be one you'd least want to find waiting for you in that alley?
Faith: Leo Pellissier. For a lot of reasons he's an antihero, and I have no idea if he'd hurt, watch amused, or hurt on his way out to dinner and a game of cards…
Thanks for having me, Ken!
###
Thanks for involving me in part of your tour, Faith! And thank you for those awesome answers.
Now here's that Excerpt:
I parked beside the KPD unit and pulled up the security footage of the Pilot robbery itself, which Tandy had sent as I drove. I watched on my tablet as the skinny unsub in jeans and a dark hooded jacket walked through the entrance and pointed his pocket at the cashier closest to the door. The pocket could have concealed a hand holding a weapon, but looked like the tip of a finger. It was hard to say. The cashier removed a handful of bills from the drawer and handed them to the subject, who reached out and accepted the bills, his hand narrow, thin, and shaking, as white as any vamp's. He left the Pilot at a steady, slogging pace. Not running, not panicked, but not acting odd in any way I could see. No cameras caught his face, and he seemed to disappear into the shadows across University Commons Way toward the Walmart.
Something seemed odd and I watched the video again, realizing the male unsub could be a gangly female. The slender hand. The way he, or she, ran wasn't suggestive of gender.
I read the rest of the report. The kid—estimated to be about seventeen by the cashier—had asked for four hundred dollars. Not everything in the register. Just four hundred dollars. That was weird. I looked up felonies and discovered that in Tennessee, a robbery involving less than five hundred dollars, and committed without a weapon, (fingers didn't count) was a misdemeanor. That explained the lack of police presence here, just the one police car, Unit 102.
I accessed the surveillance cameras from the earlier title loan shop robbery. Same slim form, same white skin, same hand in pocket. A finger. He had stolen a gun and ammo as well as money. Here, the lanky thief stole less than a hundred dollars and the .32 Smith & Wesson. He—I chose male for convenience—had calculated the value of the gun and ammo, adding them to the cash. Stealing a gun carried heavier penalties. I was guessing he didn't know that. But, if both robberies had been committed by the same person, he or she had been in possession of a gun on the second robbery, and hadn't used it. So why steal the gun?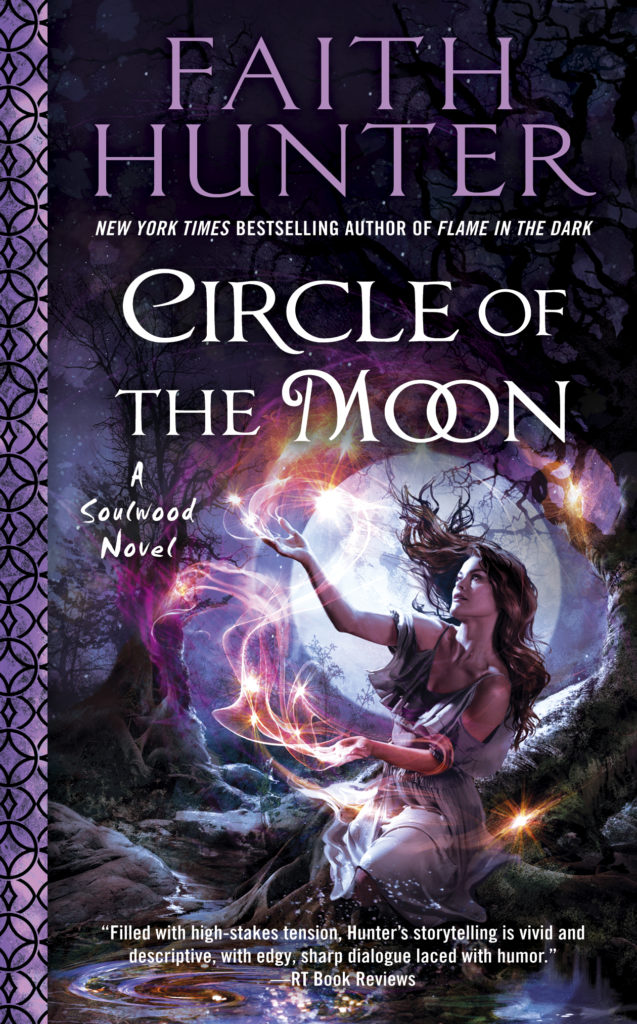 I clipped my badge where it could be seen, adjusted my vest and weapon, and stacked my tablet on top of the psy-meter. The robberies hadn't been violent, but the robber wasn't in custody. He'd taken off on foot, was smart enough to dodge security cameras, and was armed. Better safe than sorry. I checked my comms unit and went inside, spotting the cop right away, leaning over the counter, chatting with the Pilot employee. I said, "Officer Holt?"
The cop turned and looked me over, a frown on his face. He muttered, "You gotta be kidding me," just loud enough to make sure I heard. Holt didn't like female special agents, especially ones who looked too young to have come up through the ranks and paid their dues, as he had. And based on the hint of fear in his eyes, he especially didn't like paras, and I didn't look quite human right now.
###
BIO
Faith Hunter is the New York Times and USAToday bestselling author of the Jane Yellowrock series, the Soulwood series, and the Rogue Mage series, as well as the author of 16 thrillers under pen the names Gary Hunter and Gwen Hunter. She has 40+ books in print.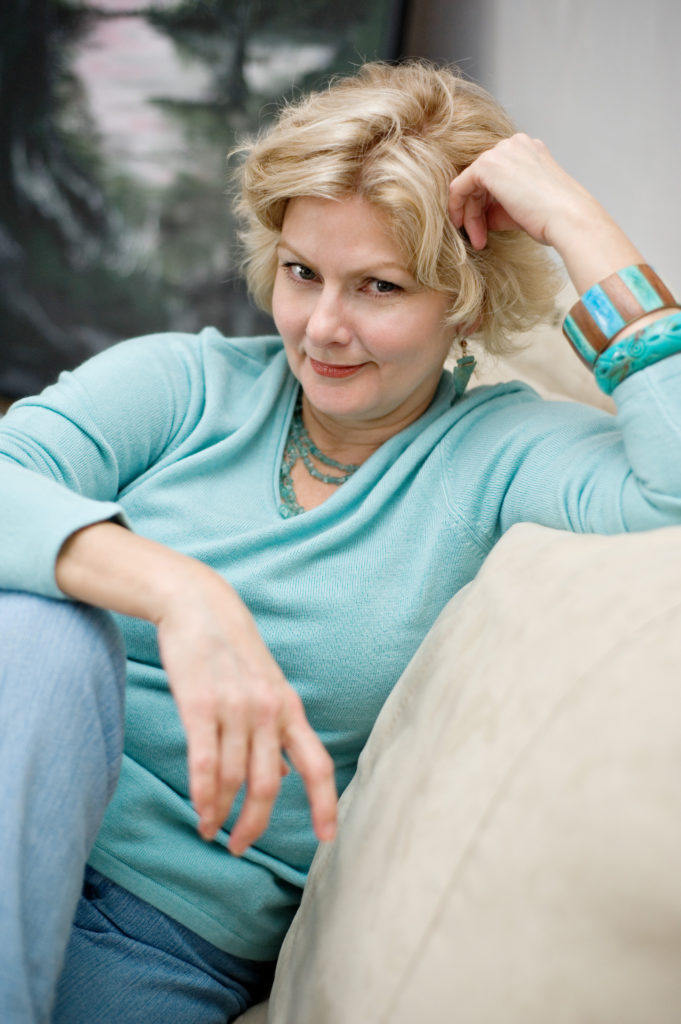 Faith collects orchids and animal skulls, loves thunder storms, and writes. She likes to cook soup, bake homemade bread, garden, and run Class III whitewater rivers. She edits the occasional anthology and drinks a lot of tea. Some days she's a lady. Some days she ain't.
For more, see www.faithhunter.net
To keep up with her, like her fan page at Facebook: Faith Hunter
Huge thanks to Faith for taking the time to answer my questions and to share an excerpt for the blog.
Like what you saw?
You can pick up a copy of Circle of the Moon from:
Amazon: https://www.amazon.com/Circle-Soulwood-Novel-Faith-Hunter/dp/0399587942
Barnes & Noble: https://www.barnesandnoble.com/w/circle-of-the-moon-faith-hunter/1128802031?ean=9780399587948#/
Books-a-Million: https://www.booksamillion.com/p/Circle-Moon/Faith-Hunter/9780399587948
iBooks: https://itunes.apple.com/us/book/circle-of-the-moon/id1390280167?mt=11
Google Play: https://play.google.com/store/books/details/Circle_of_the_Moon?id=yqJdDwAAQBAJ&hl=en_US
Giveaways
Enter here for a chance to win: