This week, I've got the great pleasure to host my friend, Faith Hunter!
Faith has a new book in the Best Selling Jane Yellowrock series coming out soon. It's called: TRUE DEAD.
Have a look at this cover: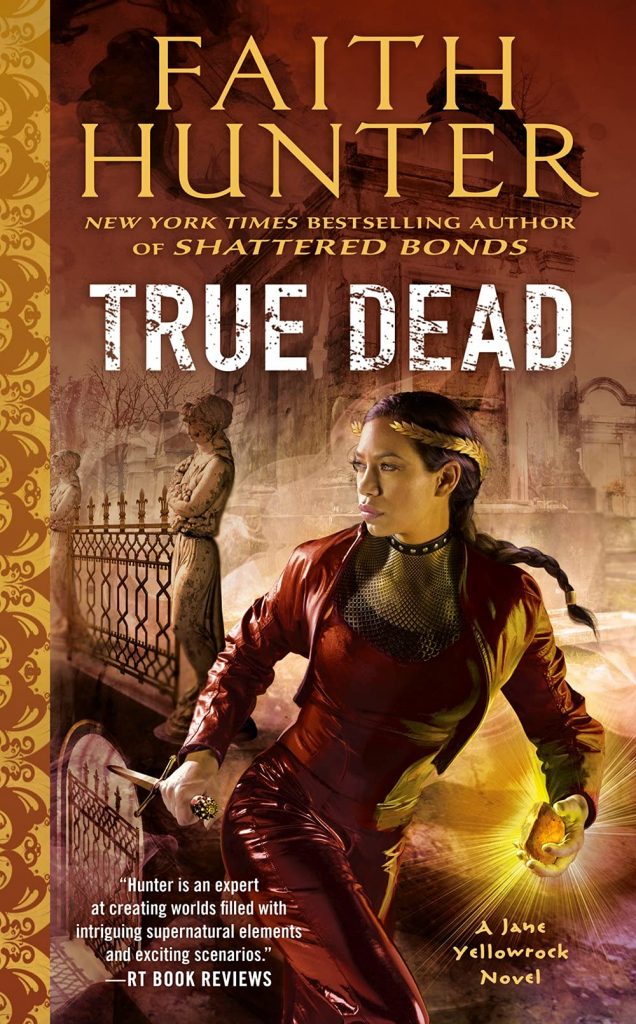 Jane Yellowrock goes back to the city where it all began in the newest installment of this thrilling New York Times bestselling series.
Jane used to hunt vampires, but now she's their queen. She's holed up in the mountains with the Yellowrock Clan, enjoying a little peace, when a surprise attack on her people proves that trouble is brewing. Someone is using very old magic to launch a bid for power, and it's all tied to the place where Jane was first drawn into the world of Leo Pellissier—the city of New Orleans.
Jane is compelled to return to NOLA because someone is trying to destabilize the paranormal world order. And because she now sits near the top of the vampire world, the assault is her problem. She will do what she must to protect what's hers. Her city. Her people. Her power. Her crown.
TRUE DEAD will be released on September 14th. In preparation for the launch, Faith stopped by to answer a few questions, and I'm pleased to say that I've got an excerpt to share with you all.
In addition to all that, there's a giveaway going on, so be sure you read all the way to the end for your chance to enter!
Now, I'm going to step out of the way and let Faith take over.
Can you help me understand Jane and Gee's Goddess blood more?
Answer: This is the first time I've been asked this in just this way. Short answer—Le breloque will only accept a few beings as its own. A very few humans throughout history, the arcenciels, and Jane. Gee DiMercy knew that the crown would take Jane. His blood and arcenciels' blood is similar, as in they come from the same world and neither really belongs on Earth. Jane was an outlier, the only skinwalker with two souls who had not been driven insane. And … Beast knew an arcenciel back in the hunger times, so there was a connection. A sharing of meals. Perhaps … a sharing of blood.
I'm listening to Shadow Rites (again) and it has made me wonder. Is there any chance that you will do a series or follow-up novel in the future to let us know what happens with Angie Baby and Edmond once she is grown?
Answer: Not planning at this time. Not thinking that far ahead. I have contracts through 2022, and after that I'll decide what to do series wise. I think about spinoffs all the time, but finding the character voices isn't always easy. I try not to promise books I may not have in me to write.
When fighting the EV's how did you decide who would win and who died and why? (A few of my favorites were gone.)
Answer: A few of my favorites were gone too. I had no idea when I started who would live or die, except for the chicky who got burned up in the rising sun. She had to go, and it had to be bad. Why? TRUE DEAD holds the answers.
Your books rollercoaster readers' emotions, but what was the personally most emotional scene for you to write?
Answer: I've been writing for over 30 years. After all this time, the most emotionally difficult to write was the scene in BETRAYAL (by Gwen Hunter, first pub'ed in 1994) where my character waits for her husband to come after her to kill her. He was abusive, dangerous, violent, and she knew with a certainty that he was going to kill her. So she let him come. That set-up scene, where she prepares herself emotional and physically and spiritually for what was to come, was powerful and empowering for me. And still one of my best.
It has already been established that Jane can travel to alternate universes if that's what we can call it when she met Joann and Papa Legba. Could it be that she did again and the Sangre Duello actually took place not her time but in the other one?
Answer: Nope. That alternate universe was a special situation, part of what is called a crossover story. However, CE Murphy (author of the Walker Papers) and I might be talking into doing a second crossover story… Maybe. 😊

And now, as promised, here's an excerpt from TRUE DEAD.
(Beast)
Silver mist rose, shot through with dark motes of skinwalker power. Let muscles go limp on cold white tub. Pelt shivered hard as magics rose. Pain quivered through Beast. Painpainpain . . .
(Jane)
I didn't cuss out loud. Mostly never. But if anything in life deserved cussing, shifting deserved cussing. There were times when shifting was painless, but it didn't happen often. I figured that was because I learned to shift by trial and error instead of over years with a teacher. This time the pain was so bad that when the shift ended, my lungs were stuck in the exhale position.
Panic clawed at me, and I fought through the pain, forcing my lungs to expand. Air whooshed in with a sucking judder. I gasped in several breaths.
"Dang cat," I wheezed. "This tub is freaking cold!"
Inside me, Beast whistled with laughter. Which was a new sound. I had a feeling it portended nothing but trouble.
I reached a hand to the tub's edge and saw my knobby knuckles. I was in half-form. Which was pretty brilliant, actually. I could stay in half-form longer than human. My belly gripped my insides in hungry claws and growled. I patted it. "Gimme me a minute," I said to it.
I pulled myself out of the tub and into our room, closing the bedroom door. Bruiser and I had this wing to ourselves most of the time, but I was fairly prudish. Nudity was not one of my comfort zones.
I opened my closet and turned on the light. Smart lights had been an option, but if we wanted to move around in the dark, with bad guys outside, then smart lights were stupid. The bright lights illuminated the mirror and the hanging rack for my brand-new armored leather. Seven sets, four in different shades of matte black, and three sets in colors. There was more armor in New Orleans, with and without leather exteriors; I had an extensive armor wardrobe. I chose a charcoal camo set. The moon was nearly full, making pure black foolish.
I held the armor up in front of me and studied myself in the cheval mirror. I never turned out the same way twice when I shifted into half-form. This time I was a six-foot-tall monster with human-looking amber eyes, furred cat ears placed high on my head, a half-human / half-cat nose on a cat snout, extra long canines, and my black hair to my waist. I had a mixture of skin and pelt on my face, human boobs with skin, pelt down my back, thighs, lower belly, and legs. I'd never win a beauty contest, not even in a cat show. I grinned at my reflection, and I was horrible to look at. Yeah. I was enough to make even a vamp pause in fear. I was the shapeshifting, skinwalker, Dark Queen of the Mithrans.
###
About Faith Hunter:
Faith Hunter is the award-winning New York Times and USAToday bestselling author of the Jane Yellowrock, Soulwood, Rogue Mage, and Junkyard Cats series. In addition, she has edited several anthologies and co-authored the Rogue Mage RPG. She is the coauthor and author of 16 thrillers under pen names Gary Hunter and Gwen Hunter. Altogether she has 40+ books and dozens of short stories in print and is juggling multiple projects.
She sold her first book in 1989 and hasn't stopped writing since.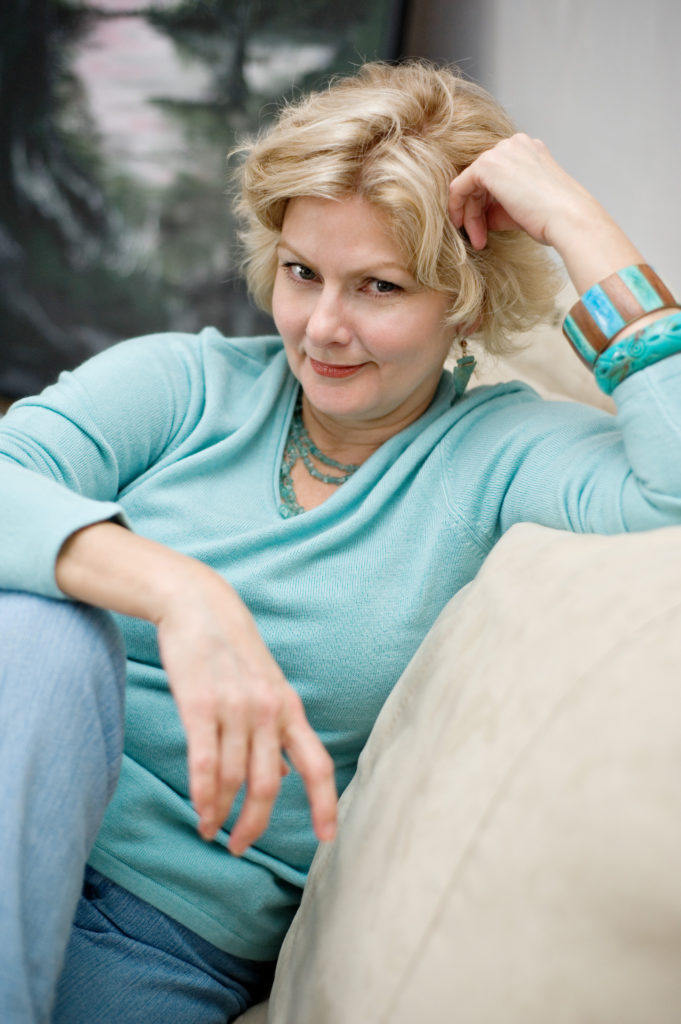 Faith collects orchids and animal skulls, loves thunderstorms, and writes. She likes to cook soup, bake bread, garden, and kayak Class II & III whitewater rivers. She edits the occasional anthology and drinks a lot of tea. Some days she's a lady. Some days she ain't.
Find Faith online at –
Website: www.faithhunter.net, Gwen Hunter: www.gwenhunter.com
Facebook (official): https://www.facebook.com/official.faith.hunter
Facebook fan group: https://www.facebook.com/groups/753410901426312
Twitter: @hunterfaith
Yellowrock Securities website: http://www.yellowrocksecurities.com
###
Huge thanks to Faith for stopping by this week. TRUE DEAD launches on September 14th!
Pre-Orders Matter. You can get your copy at the pre-order link of your choice:
Preorder links:
Giveaways!!
Enter to win some fabulous prizes! Giveaway is open to US residents only.
3 winners will receive a bag of Faith's tea blend + a signed manuscript revision page
3 winners will receive a signed manuscript revision page
Good Luck!!