Two Questions with… Blog Tour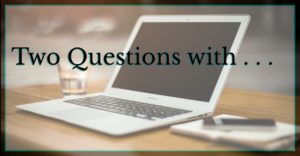 Starting Monday, June 11th, I'll be participating in a blog tour with three other wonderful authors. Each week, we'll be answering two questions in a mini interview, hosted on our respective blogs.
I'm jazzed to be hosting the following authors on these dates:
June 11th – Janet Walden-West
June 18th – Pat Esden
June 25th – Anne Raven
So, stayed tuned, and keep an eye on the tour for all the interviews!
These are the places where I know I'm going to be. Check back often, because you never know…
2018
Balticon
May 25th – 28th, 2018
The Renaissance Baltimore Harborplace Hotel
Baltimore, Maryland
Friday, May 25th:
5:00 pm: When to Tell Instead of Show – Room 9029
"While writers are told to "show, not tell," there are times where showing is insufficient. What are these times and how do you know how much to share?"
8:00 pm: Writing Major Minor Characters – Room 8029
"They may not be your protagonists, but minor characters need to be fleshed out just as much as the heroes. How do minor characters enrich a story, and how can we make them interesting without letting them steal the spotlight?"
Saturday, May 26th:
1:00 pm: Broad Universe Rapid-Fire Reading – Kent
"The authors of the Broad Universe writing organization share excerpts from their upcoming works."
7:00 pm: Reading – St. George
"Come on down to the St. George room and stuff your ears with some awesome stories from me, Danielle Ackley-McPhail, and Michelle Sonnier."
(Full Disclosure: This is not the actual panel description, but it might as well be. Danielle and Michelle are awesome. I clean up pretty well, myself.)
Sunday, May 27th:
3:00 pm: Cutthroat Fiction – Pride of Baltimore II
"A panel of writers will create flash fiction pieces in front of the audience – who will get to sabotage them by taking away words or creating silly rules"
(Author's note: You think you can trip us up? Bring it on.)
5:00 pm: Diversity Readers and Why You Need Them – Homeland
"No matter one's background or life experiences, everyone has blind spots. Diversity readers help illuminate what an author may be missing. How can writers find and properly compensate diversity readers?"