Happy Book Birthday to me!!!
Even now, after the book has been released, there are still times when I find it hard to believe that Faith asked me if I was interested in submitting a story for this anthology.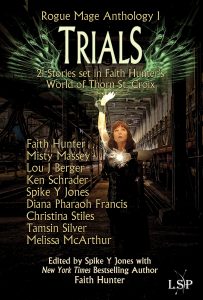 I remember when I got the email, I spent a quiet few moments in consideration* before responding . My first thought after that was: "What the heck did I just get myself into?"
You see, I really admire Faith and the rest of the authors that I'm sharing these pages with. I've got their books on my bookshelves and here I am, one short story sale – which is not a small thing by any sense – to my name and I'm sharing cover space with…well look at those names to the left.
No pressure, right?
So I did my best to put together a story that would hold its own among all of the awesome.
It's called "The Price of Power."
I hope you enjoy it.
And now for a quick bit of of Q&A:
What was it like to play in the Rogue Mage world?
It was different in that the world building had already been done. I didn't have to worry about any of that. Additionally, we each got a copy of the Rogue Mage  roleplaying game player's handbook. It was a file I kept open and referred to constantly and it fleshed out the world even more.
I had the books and the game rules and Faith was only an email away if I had any questions. It was great.
It was also a little frightening.
This is Faith's world, after all. I found myself asking the same questions over and over: Is this story the best that I can make it? Can I chase the awesome farther? CAN I DO MORE**?
Yes, there was *Zero* external pressure. Yes, we are all just people doing what we love to do, and doing it the best that we know how.
But it still felt like being asked to come up on stage and jam with Blind Guardian.
It pushed me. I have no doubt that the experience has made me a better writer. And I HAD A BLAST!!! I would do this again in a heartbeat.
Was it hard to develop your character within the confines of the Rogue Mage world?
Nope. Not even a little. I had a lot of room to work with.
Tell us about your character.
Elise is a Moon Mage. She draws her power from the light of the moon and, as the moon waxes and wanes, so does her power. She's sensitive to the light of the sun. It saps her power – to the point where she's forced to rely on amulets she's stored power in.
It also hampers her eyesight, but she's adapted, learned to take care of herself. She enjoys the practice of Savage Chi and won't shy away from a fight.
She's also stumbled on a way to quickly draw in the moon's light and – she'd never admit this to anyone, not even herself – she's becoming addicted to it.
When your story was finished, how did you feel about your character and the story?
I loved them. Even after a couple of rounds of edits, and who knows how many times I read the story, it never failed to draw me in. In the end, I wanted to spend more time with Elise, Gary, Sonia, Mack, Javier, and, even, Anette.***
Tell us about your other projects.
I am waiting to hear whether a story I submitted to the Hath No Fury anthology was accepted.
In the mean time, I'm:
Working on squeezing one final short story out before the end of the year.
Seeking representation for my first novel, "Chasing the Kestrel".
Making writing plans for 2017.
You can pick up a copy of Trials at:
TRIALS
Rogue Mage Anthology Vol. I
21 Vignettes and Short Stories set in Faith Hunter's World of Thorn St. Croix
Edited by Spike Y Jones with Faith Hunter
The Rogue Mage world began long ago, when the epic battle between the High Host and the Darkness was won and lost. TRIALS takes fans of Thorn St. Croix into the past, before the opening pages of BLOODRING. These stories, set in Faith Hunter's Rogue Mage world, are adventures with new characters and old, facing dangers unimaginable. And they must save the world all over again.
If you ever wondered what happened between seraphs, kylen, second-unforeseen, mages, seraph-touched, spawn, humans, dragons, and their creatures before the series, now is your chance to delve deeper and wider. TRIALS features new short stories from nine authors—including Faith Hunter—and vignettes from the Rogue Mage role playing game.
TRIALS will be followed soon by TRIBULATIONS, and then by the omnibus TRIUMPHANT.
TRIALS Authors: Faith Hunter, Misty Massey, Lou J Berger, Ken Schrader, Spike Y Jones, Diana Pharaoh Francis, Christina Stiles, Tamsin Silver, Melissa McArthur.
TRIBULATIONS Authors: Faith Hunter, Jean Rabe, Spike Y Jones, Christina Stiles, Lucienne Diver.
*HAH! I went from zero to SQUEEE!!! in under .25 seconds. Sounds were made, people.
**I did do more. Much more.
***Maybe, especially, Anette.