Hey, everybody!
This week I'm pleased and proud to be hosting one of the stops on Faith Hunter's Flame in the Dark blog tour!

To catch up on the other stops on the tour, you can visit the tour page. On this leg of the tour, Faith has stopped by with an excerpt from "Flame in the Dark" so read on for a glimpse into Nell's latest adventure.
Don't forget to check out the tail-end of the post for an awesome giveaway!
And now, an excerpt from "Flame in the Dark"!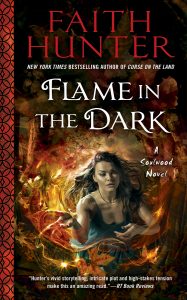 Tandy paused near the desk and the recording device centered on it. I stopped to the side of Ming, carefully not between Yummy and her charge. Tandy said, "It's standard operating procedure for us to record this conversation. Do you have objections, Ming of Glass?"
Ming waved a hand, the motion languid. "I have no objection."
Tandy pushed a button and stated the day and time, the address, and the location in the house. He said, "Special Agents Thom Andrew Dyson and Nell Nicholson Ingram, with Ming of Glass and one member of her security. Would you state your name, Miss?" he asked.
"No," Yummy said.
Tandy went red. I wanted to giggle, and all the fear drained out of me. The vamps were playing games with PsyLED. I decided it was not the right time to engage or I'd be playing the game they wanted to play, not one of my own. There are things a girl learns listening to the squabbles of an extended family. Timing is one of them. "Ming of Glass," I said. "I'm honored to speak with you. I'm Special Agent Nell Ingram of PsyLED."
As if to remind her, Yummy said, "Maggots, my master."
Nell Ingram has always known she was different. Since she was a child, she's been able to feel and channel ancient powers from deep within the earth. When she met Jane Yellowrock, her entire life changed, and she was recruited into PsyLED—the Homeland Security division that polices paranormals. But now her newly formed unit is about to take on its toughest case yet.
A powerful senator barely survives an assassination attempt that leaves many others dead—and the house he was visiting burns to the ground. Invisible to security cameras, the assassin literally disappears, and Nell's team is called in. As they track a killer they know is more—or less—than human, they unravel a web of dark intrigue and malevolent motives that tests them to their limits and beyond.

About the Author: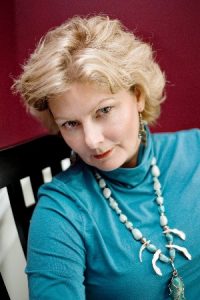 New York Times and USAToday bestselling fantasy author Faith Hunter was born in Louisiana and raised all over the south. Altogether she has 40+ books in print under the names Gary Hunter, Gwen Hunter, and Faith Hunter. As Faith, she writes two contemporary Urban Fantasy series: the Jane Yellowrock series, featuring a Cherokee skinwalker who hunts rogue vampires, and the Soulwood series, featuring earth magic user Nell Ingram. Her Rogue Mage novels are a dark, post-apocalyptic, fantasy series featuring Thorn St. Croix, a stone mage. The role playing game based on the series, is ROGUE MAGE, RPG.
Website: www.faithhunter.net
Facebook: https://www.facebook.com/official.faith.hunter
Twitter: @hunterfaith
Yellowrock Securities: http://www.yellowrocksecurities.com
Gwen Hunter: www.gwenhunter.com
Giveaways!!
There is a Tourwide giveaway is for 3 sets of the 1st 2 Soulwood books ( BLOOD OF THE EARTH and CURSE ON THE LAND ) and one $50 Amazon gift card (US residents only)!