Happy Friday everyone!
Welcome to another edition of the Friday Fess-Up for March.
It's been a week. I say that not in the usual "Well, seven days have passed" kind of way. I mean it more like "Seven entire days have come and gone and I've felt every one of them."
So I confess to being a little tired which is purely my fault. Towards the end of the work week, I've got this bad habit of playing fast and loose with my sleep schedule because, what the hell, it's only one day I've got to get through, right?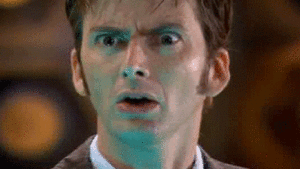 What???
Yes, I know that's a bad idea. I'll tell myself that it isn't that bad, that maybe I'm not getting the full 7.5 hours of sleep that seems to near end of the sweet spot…then I'll fall asleep reading on my lunch break the next day.
On top of that, It's been a mentally taxing week as well. I haven't been honest with myself lately–something I'll get into in more detail on Sunday–and that's been tripping me up somewhat.
On top of that, I've been struggling with a scene.
Not The Book.
Not a chapter.
A scene.
Here's a confession: I've been knocking my head against this damned thing for 3 DAYS!!
Part of it was uncertainty. Was too much happening too fast? Do my characters seem too accepting of what's going on? I couldn't find something that worked. I'd get close, then read it the next day, and think, "Nope. That isn't it."
Finally, on Wednesday night, one of my protagonists said, "That's it. I can't listen to this anymore," and flipped a switch, bringing about the end of the scene. When you read that chapter, you'll know exactly where I'm talking about.  That was Wednesday and the end of that scene survived* and I was able to move on**
So there you have it: A bit of trial and a bit of triumph headed into the weekend.
Be sure to check out the Freebies page for story excerpts, and be sure to stop by on Sunday for another post.
Happy Weekend!
Go Ireland!!
Go Scotland!!
Go Wales!!
Go watch some Six Nations Rugby this weekend!!
Until then…
Be Safe Y'All.
*For now. This the the first draft, and nothing is safe.
**I am a very linear writer. From A to Z and all points in between.