Happy Friday Everyone! We Made it!
Before I get into the meat of tonight's post (which is a little later than usual), I've got an announcement to make:
The Chasing the Light anthology is Live!!!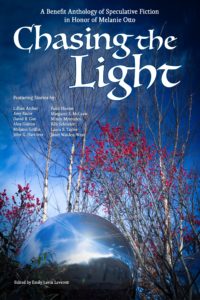 This is an anthology that I and the rest of my writer's group – The Roaring Writers – put together to honor one of our own.
Melanie Otto was a dear friend and I'd like to think that she'd have dug my story.
She'd have dug them all.
We put together this anthology, donating each of our stories to benefit Melanie's partner to help defray final costs.
I miss you, my friend.
You can pick up your copy of Chasing the Light from Amazon.
You can read an excerpt from my story "The Intern" here.
On with the post!
##
So it's Friday and I'm still in a bit of recovery mode. This is primarily because when I got back home from Balticon, my allergies were waiting for me like a guy in a dark alley with a lead pipe.
It was ugly. As I'm typing this, I'm on two different antihistamines. One is a 24 hour kind, and the other is a 4-6 hour type. The serious stuff. The kind that you've got to hand over your ID for.
Ugly.
So I'm catching up. Balticon was a blast. I caught up with friends that I only ever see at these kinds of events, and I made some new friends. The panels I was on were great, and the one that I moderated (Surprise!!) went really well, despite having a limited amount of time to prepare.
But it had it's downsides. I confess to being struck by a particularly nasty brain-weasel on Saturday morning. I felt like a total imposter, and it kept me in bed for nearly two hours later than I'd intended. When I did get up, I just couldn't people. I felt like I didn't belong there.
So, after grabbing breakfast, I went back to my room and wrote nearly a thousand words, and came down around noon. I wasn't late for anything and the work, and the company convinced me that I did, in fact, belong there.
So don't be afraid to take the time you need to collect yourself if you need it. I did manage to up my face to face networking game, and I finished off the con in high spirits, and chock full of fond memories.
And that's what it's all about.
Be safe Y'All.