This week, I'm going to launch what I hope is going to be a regular thing on the blog. I'm calling it "Five Thing Thursday."
Five Thing Thursday is where I post about five things that I want you to know.
Why Thursday? I like the alliteration.
Here are five things I want you to know:
Thing #1: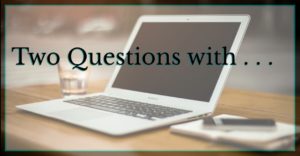 Two Questions With…
Beginning on June 11th, I and some other authors will be kicking off a blog tour called Two Questions With…
For the next three weeks, we'll each be answering two questions on each other's blogs and it'll be a great time.
Who are the other authors, you ask?
They are:
What questions will we be answering? Well, you'll just have to tune in and find out.
Here's the schedule:
June 11th – Janet Walden-West and I, and Pat Esten and Anne Raven.
June 18th – Pat Esden and I, and Janet Walden-West and Anne Raven.
June 25th – Anne Raven and I, and Pat Esden and Janet Walden-West.
Thing #2:
My agent-sibling, Karen Osborne, sold a story titled "The Blanched Bones, The Tyrant Wind" to Fireside Fiction earlier this week.
It'll be coming out later this year – and will probably be making another appearance on Five Thing Thursday. Don't wait to check them out. Future You will be happy with Present You.
Thing #3:
I just started listening to the audio book of Bruce Dickinson's autobiography titled, "What Does This Button Do?"
The book is read by the author and, while I can't claim to be the biggest Iron Maiden fan in the world, I am very interested in hearing about how successful creatives got to be where they are.
And damn, but Bruce is entertaining.
Thing#4:
If you're into Power Metal at all, you should check out Beast in Black. I discovered them not too long ago and they've been making my toes tap for a couple of days now.
Thing #5:
The SOLO movie was a lot of fun. There were moments, little flashes, really scattered through the film that pinged off my nostalgia/established knowledge of Star Wars in general, but you could be completely ignorant of all things Star Wars and still enjoy this movie. Go see it.