Happy Friday Everyone!!
Welcome to the first Friday Fess-Up for October.
We made it!
I don't know if you're feeling like I am but, Tiny Gods, today couldn't have gotten here any sooner.
I'm going to be changing things up on the Friday Fess-Up.  Initially, I thought it would be helpful – if not a way to kick myself in the pants – to post word counts, to show folks…pretty much what you instinctively already knew:
It's not all 2000 plus word count days.
And that makes sense. especially in light of the absolute dearth of "Christ, I barely broke 200 words, and I'm bleeding from my eyes." kinds of posts.
Recently, I came to realize that it's not just all about the words.  Yes, I know that there are some of you that are sharpening the tines on your pitchforks because I said that, but it's true. There's more to it, and it's all interconnected.
I've been saying that I was going to make sleep a priority this year but, if I'm being honest with myself, I've only really been paying lip-service to that. Something will come up and sleep will go out the window.
I need to stop that.
I also need to make the time for "Down-time." Periods where I'm not writing, or Authoring, or anything. Just relaxing.
To that End – and in the spirit of keeping myself honest – I am going to add additional stuff to the Friday Fess-Up.
Because it's not just about the words. It's about the life.
Saturday: Word Count =  1078.
Sleep (Friday-Saturday): Ok, initially, some of these numbers are going to be fuzzy, because it wasn't until this morning, really, that I decided I was going to include this stuff: 9 Hours and 30 Minutes. This is a usual amount for a Friday night to Saturday Morning stint, because I'm generally paying for bad decisions earlier in the week.
Sunday: Word Count = 1004
Sleep (Saturday to Sunday): 8 Hours and 40 Minutes – because you can't make it up in a single night.
Monday: Word Count = 1012
Sleep (Sunday to Monday): 6 Hours and 30 Minutes. Lots to do + Poor decision making = sleep deprivation.
Tuesday: Word Count = 361
Sleep (Monday to Tuesday): 7 Hours and 50 minutes. Got to bed late, and still had to make up for the lousy shut eye on Sunday night. Woke up late and had less time to write.
Wednesday: Word Count = 1078
Sleep (Tuesday to Wednesday):  7 Hours and 50 minutes. This time I got to bed on time and had more time to write in the morning. It should be noted that I'm not cranking out a thousand words just in the morning, but that morning writing time really sets the foundation for the rest of the day.
Thursday: Word Count = 1000 words and some change. I ended up writing in Word, using some of Wednesday's work copied onto a flash drive.
Sleep (Wednesday to Thursday): 8 Hours Even. Wednesday was a 12 hour day at work. I got to bed way later than my ideal 9:00 pm. I woke up late and didn't write in the morning at all, cuz…day job.
Friday: Word Count: 200 words. I don't know the exact number because I was just adding to that Word document on the flash drive, when I could scrape enough seconds together.
Sleep (Thursday to Friday): 7 Hours and 40 Minutes. Thursday night was about 14 hours at the day job. I didn't get up to write because of stuff going on with the day job that I couldn't miss.
Looking at it this week, I was either paying back a sleep overdraft, of adjusting to having my schedule knocked out of whack by the day job.
Friday I also chose to not try and get any more work done. I've written ever day since September first. Most of those have been 1000 plus word days, and I need to refill the well, so I didn't push.
What am  I reading this week? This isn't going to be a review site, just a quick blip to show folks that I'm not doing anything but writing.
Perdition by Ann Aguirre.
Space Opera by Cat Valente
What am I listening to this week? Not Music so much. It goes without saying that I need music like I need to breathe, and there hasn't been a day in years where I haven't had some kind of music playing, at some time. This is Podcasts. Audiobooks will appear in the "Reading" section.
I am hopping back and forth between the back catalogs of  the Hybrid Author podcast and Galactic Suburbia I listen to other podcasts, and they'll probably show up here as well, but GS has a substantive back catalog.
How have I been relaxing and refilling the well? This is going to be sparsely populated until I can figure out the whole work-life balance thing.
Mostly this week, it's been reading and – on Friday/Saturday Watching Rugby. Each match is about 2 hours long 80 minutes per match, plus whatever for breaks in play.
###
Be sure to stop by on Sunday where I'll be talking about my Month long Writing push in September.
Stop by the Freebies page for story Excerpts.
Also check out the Events page for info on the…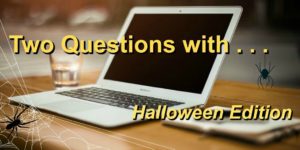 Blog tour that is going on during the month of October!!!