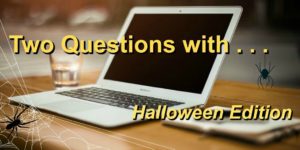 Two Questions with… has returned from the grave, and this week I am very happy to host my friend Anne Raven on the Third round of the "Two Questions With (the Halloween Edition)…" blog tour.
Huge thanks to Anne for taking the time to participate. I'm really glad you came along for the ride.
Now I'm going to retreat back into the shadows and let Anne do her thing: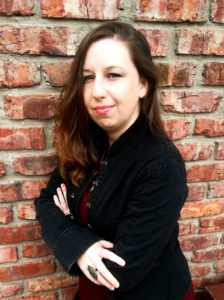 Thank you, Ken, for hosting me on your blog today for the third installment of our "Two questions with… Halloween Edition" blog tour series. I'm Anne Raven, and I write romance, anything from suspense to paranormal.
*wipes blood—uh, I mean tomato soup—from hands*
Now that my hands are clean, let's get cracking on those bloody questions…
Q: What is your favorite part of the Season?
So, I'm actually South African, and we don't really celebrate Halloween here. At least not to the extent of countries like America. Each year seems to bring more emphasis on the creepy holiday, but that's only been in the last few years anyway.
We don't trick or treat.
We don't carve pumpkins to make Jack-o-lanterns.
The commercial world does like to grab onto the Halloween theme. TV networks run Horror movie marathons. Shops do a scary-inspired sale. And you'll find a good deal of Halloween-themed chocolate. But mostly—at least in the last handful of years—people have Halloween parties, enjoying the excuse to dress-up. Again, it's on a much smaller scale, but it's growing steadily.
If we did go all-out on the celebrations, I think my favourite part would be the costumes and party decor. I'm kind of known for going overboard with themed parties, so Halloween is the perfect excuse to go wild and have fun. A couple years ago, I threw my sister a Rocky Horror Picture Show themed 30th birthday party. Actually, we called it her "Thirty Horror Birthday Show". Fake blood and spider webs everywhere. Crazy outfits I shall not even mention. A corset cake I made from scratch. It was a blast. And could very easily double up as a Halloween party.
Q: Favorite October Food?
Since October means springtime with a hint of summer in South Africa, this is totally different from the American version of pumpkin-spiced lattes that I see mentioned on Twitter.
I don't think I have a particular food that I crave in October. I AM a coffeeholic all year round, but that doesn't change come October. With the warmer weather, I'll probably go for ice cream more often since that's my other weakness! Also, new fruits start to show themselves—like nectarines and papaya (or paw paw as we call it here). Finally, I'm a huge fan of citrus, so October means saying goodbye to those last few stragglers still hanging around. Time to get your fill before they all disappear until next winter.
That's not a very exciting list, is it? Coffee, ice cream, and fruit. I'm a simple creature.
BIO
Anne Raven was born and raised along the windy coast of South Africa, and can assure everyone there are no lions roaming the streets—unless you count the feral cat next door. When not reading or writing, you'll find her being bossed around by her adorable niece, taking freshly baked goods from the oven, or drinking too much coffee. Her romantic suspense IN THE NAME OF THE MOTHER was showcased in Pitch Wars 2017. Anne is represented by Amanda Jain at BookEnds Literary Agency.