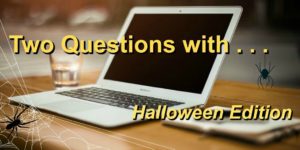 Two Questions with… has returned from the grave, and this week I am very happy to host my friend Kirsten Lincoln on the Fifth round of the "Two Questions With (the Halloween Edition)…" blog tour.
Huge thanks to Kirsten for taking the time to participate. I'm really glad you came along for the ride.
Now I'm going to retreat back into the shadows and let Kirsten do her thing:
Thanks to Ken for hosting me! I'm K. Bird Lincoln, an author of Historical and Urban Fantasy who may or may not be too obsessed with Japan, chocolate, and coffee.
Which Horror Tropes do you love to twist/would love to see twisted?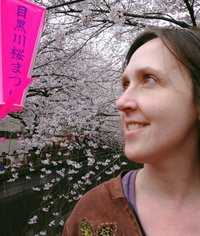 "The Final Girl Standing" is a well-worn horror trope. Sigourney Weaver as Ripley in Alien, Courtney Cox as Gale in Scream, Marilyn Burns playing Sally in Texas Chainsaw Massacre established audience's sympathy with that last, beautiful ingenue who somehow makes it out alive.
It's so well established now that once I've guessed who is going to make it through a horror movie or show, the frissons of fearful delight produced by watching them skirt the edge of death disappear. I want a movie that terrifies me by twisting that trope somehow so the last girl standing IS the monster. Maybe that movie exists out there somewhere and I've missed it. It would have to be a movie where no one has spoiled the ending yet. The movie would have to be filmed in such a way that there are a few hints—enough to keep the audience guessing or doubting their suspicions but not enough that we would know until the end what the girl truly was. The effect would be even greater if the girl herself had conflicted feelings about being a monster. Someone make that movie, please.
What is your go-to scary/Halloween movie
Since I am a wimp and can not handle really scary movies (or shaky cam found footage movies) every Halloween I go back to Michael Jacksons' Thriller.
I'm a child of the 80's, so I can remember sitting on the floor with my finger on the VCR  *record* button waiting for Thriller to play for the first time on MTV. It was the most amazing video I had ever seen. The cinematic storyline, the dancing, the creepiness of Vincent Price's distinctive voice. When Zombie Michael Jackson kicks through the  door and menacingly approaches his date on the couch my heart turned into a frightened squirrel and attempted to claw its way up my throat.
I was gleefully terrified. In a twisted way I wanted to be that girl on the couch, her mundane life interrupted by fantastical beasts who threatened to eat her or possibly just kiss her. Would she fight herself out of the danger? Would she tame the wild beast? The feelings in the video fed right into my love of how ghosts, goblins, vampires,and shifters forces female characters into crucibles where they face their own weaknesses and strengths in order to survive the monsters.
Although now my favorite stories are ones where the girl might be the monster herself…
###
K. Bird Lincoln is an ESL professional and writer living on the windswept Minnesota Prairie with family and a huge addiction to frou-frou coffee. Also dark chocolate– without which, the world is a howling void. Originally from Cleveland, she has spent more years living on the edges of the Pacific Ocean than in the Midwest. Her speculative short stories are published in various online & paper publications such as Strange Horizons. Her medieval Japanese fantasy series, Tiger Lily, is available from Amazon. In 2017 World Weaver Press released Dream Eater, the first novel in an exciting, multi-cultural Urban Fantasy trilogy set in Portland and Japan. It happens to be on sale for 99 cents the month of October 2018 to celebrate the release of the sequel, Black Pearl Dreaming.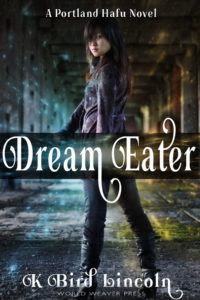 She also writes tasty speculative fiction reviews on Amazonand Goodreads. Check her out on Facebook, join her newsletterfor chocolate and free stories, or stalk her online at kblincoln.wordpress.com.
Koi Pierce dreams other peoples' dreams.
Her whole life she's avoided other people. Any skin-to-skin contact—a hug from her sister, the hand of a barista at Stumptown coffee—transfers flashes of that person's most intense dreams. It's enough to make anyone a hermit.
But Koi's getting her act together. No matter what, this time she's going to finish her degree at Portland Community College and get a real life. Of course it's not going to be that easy. Her father, increasingly disturbed from Alzheimer's disease, a dream fragment of a dead girl from the casual brush of a creepy PCC professor's hand, and a mysterious stranger who speaks the same rare Northern Japanese dialect as Koi's father will force Koi to learn to trust in the help of others, as well as face the truth about herself.
"Lincoln successfully mixes Japanese, Native American, and Middle Eastern mythologies in her modern setting, and Koi's wry voice gives a new perspective on the problems of paranormal gifts."
–Publishers Weekly
"DREAM EATER brings much-needed freshness to the urban fantasy genre with its inspired use of Japanese culture and mythology and its fully-realized setting of Portland, Oregon. I'm eager to follow Koi on more adventures!"
—Beth Cato, author of The Clockwork Dagger and Breath of Earth
Find it Online:
Amazon
Barnes and Noble
Books-a-Million
Goodreads
Independent Bookstores
iTunes/Apple iBooks
Kobo