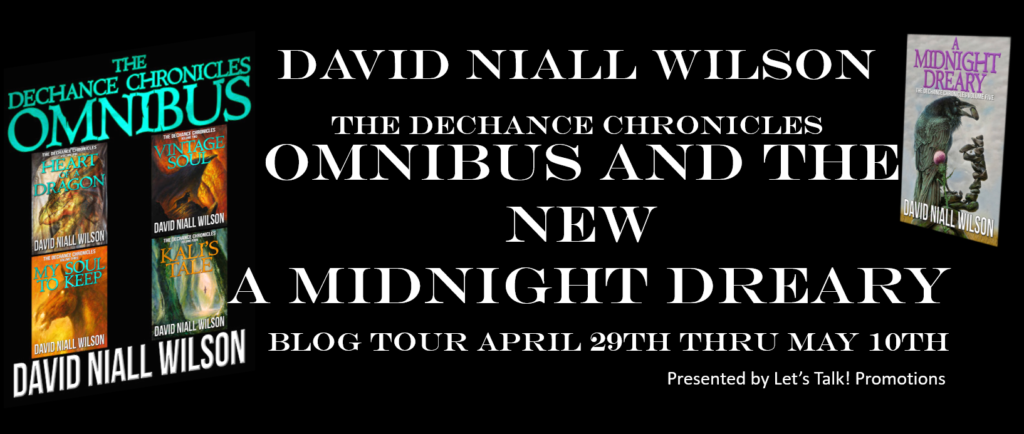 Hi Everyone! Today I'm happy to be hosting one of the stops on David Niall Wilson's Dechance Chronicles Omnibus, and A Midnight Dreary Blog tour!
David was kind enough to stop by and answer a few questions for me. Be sure to stay for the end credits, to get in on an awesome giveaway!
Take it away, David!
Me: What is one thing that you've done for research that you've struggled to explain to a non-writer?
DNW: I think probably the best answer for this would have been back in my days in the US Navy. I used to go on every historical tour I could find, in Israel, in Europe – the Dead Sea, The Vatican, The tower of Pisa. When I was inside places like that, I was absolutely overwhelmed by the history of it – the wonder of being in a place I'd read about – actually being there. I am always that way. When writing about a serial killer I ordered a CD of music by Charles Manson and listened to it as I wrote. I have a tiny bullseye lantern, antique, from around the time of Jack the Ripper because I wanted to know how much light it would put out – what it would have been like for a Bobby in London trying to see through the fog.
I visited the Holocaust Museum because there was a part in my novel "Deep Blue" that required more understanding, sat with a wino in an alley in Hollywood drinking wine out of a bag – listened to a street musician for over an hour in a subway station… I try to soak these things in, but I know from the expressions on their faces that the people who did those things with me felt none of it, and had no idea what I was talking about when I tried to explain. I guess I'm a "method" writer… it freaks people out.
ME : Do you see any issues in your genre and how are you addressing them?

DNW: I don't have a genre. I have written everything from children's picture books to political satire, thrillers and mysteries, science fiction, horror, and fantasy. I write what moves me at the time – so – while I don't write anything to deal with issues within a genre, I believe (hope) that a lot of what I write deals with issues in life that are current, and important. I am writing a book about writing, part memoir (I think a lot of us do that). It's called "Writing What Hurts," and in it I sort of say that, at least for me, if you don't have something important to do or say with the work… you are holding something back. Think of when Kathleen Turner is finishing her book at the beginning of "Romancing the Stone," tears running down her face. I don't know what her book was about, but my work has affected me that deeply… it has also made me laugh so hard I pulled off the road listening to the audio version.

ME: If you could give Past You one piece of advice, what would it be?
DNW: Advice to a younger me: If I was given the chance to do something over as a writer knowing what I know now, I would have written more, sooner. I would have written until my eyeballs popped out. I started my career near the middle of the huge horror boom and could easily have been a part of it and had a very different career. The other thing I would do is ignore EVERYONE who told me to write something other than what I felt I needed to be writing – editors who never took anything anyway, agents who never sold what they asked for… the best writing from any author comes from what they "feel" deep inside.. not from what the market is looking for.
ME: Characters I'd want to meet/ not want to meet?
DNW: Hmmm… I wouldn't want to meet any of the villains from my novels in a dark alley… as far as a main character of my work, I think either the vampire Montrovant from The Grails Covenant Trilogy, or Reverent Payne from my novel Deep Blue would be those I'd least like to meet, but if I did – either Donovan DeChance or his lover Amethsyt. There are other characters from other series that would also be fine – Rebecca York from The O.C.L.T. would work, or old Nettie the swamp witch from the Cletus J. Diggs Old Mill NC novels… I guess the most important thing is that most of the heroes I write are aspects of how I perceive myself, or how I would like to be perceived… so they think like I do, and (of course) they always win in the end.
Thank you, David, for taking the time to stop by and answer some questions for us.
You can pick up David's Dechance Chronicles Omnibus at::

Barnes and Noble: https://bit.ly/2Vqjxyd
Amazon: https://amzn.to/2UYjJFw
And you can pick up A MIDNIGHT DREARY at:
Barnes and Noble: https://bit.ly/2Vtu8su
Amazon: https://amzn.to/2Zz6TfM
About the books:
Donovan DeChance is a collector of ancient manuscripts and books, a practicing mage, and a private investigator. This Omnibus Collection includes books I, II, III, and IV of the series. Included are Heart of a Dragon, Vintage Soul, My Soul to Keep (The Origin story of Donovan DeChance) and Kali's Tale – book IV of the series. Also included are the bonus novellas "The Not Quite Right Reverend Cletus J. Diggs & The Currently Accepted Habits of Nature," and "The Preacher's Marsh," both of which provide background on settings and characters that appear in Kali's Tale. If you enjoy this book, you should read Nevermore, A Novel of Love, Loss & Edgar Allan Poe, which follows on Kali's Tale, has a cameo from Donovan DeChance, and leads into Book V – A Midnight Dreary,

Heart of a Dragon, When a local houngan begins meddling with powers she may not be able to control, a turf war breaks out between the Dragons motorcycle club and the Los Escorpiones street gang—a war that threatens to open portals between worlds and destroy the city in the process. With his lover, Amethyst, his familiar, Cleo – an Egyptian Mau the size of a small bobcat –the dubious aid of a Mexican sorcerer named Martinez and the budding gifts of a young artist named Salvatore, DeChance begins a race against time, magic, and almost certain death.

Vintage Soul, When, despite the finest in natural and supernatural security, a sexy and well-loved, three hundred year old lady vampire is kidnapped right out from under her lover's nose, Donovan is called in to investigate. There will be no ransom for the kidnap victim, and if Donovan doesn't prevent an ancient, forbidden ritual from reaching its culmination, far more than a single vampire's undead existence will be at stake.

My Soul to Keep, Donovan DeChance is a very private man, and he is in love. When he invites his partner and lover, Amethyst, for a quiet dinner, she has no idea of his true intention. Donovan has planned a sharing – a vision that will give her the keys to his early life – the origins of his power – and a lot more than she bargained for. Join young Donovan as he fights to keep his soul, save a town, and learn the roots of his teacher and guardian – and meet his familiar, Cleo.

Kali's Tale, When Donovan is asked to follow in secret as a hot-headed group of young vampires set out on a 'blood quest' to kill the ancient who created the young vampire Kali against her will, he learns that – as usual – there is a lot more to the story than meets the eye. Through the juke joints of Beale Street in Memphis, to the depths of The Great Dismal Swamp, Donovan and his lover and partner, Amethyst, find themselves drawn along on one of the strangest quests in their long, enigmatic lives as they delve into the world of the undead, the magic of The Blues, and the very heart of alchemy both to protect their young, vampiric charges – and to prevent an ancient evil from destroying the balance of power in the universe.

A Midnight Dreary, the long-awaited fifth volume in The DeChance Chronicles, picks up outside Old Mill, NC, when Donovan, reminded that he has promised his lover, Amethyst, and Geoffrey Bullfinch of the O.C.L.T. a story, draws them back in time to a vision of the final chapter of the novel Nevermore, a Novel of Love, Loss & Edgar Allan Poe. At vision's end, they realize that they have to act, to free Eleanor MacReady from the trap that holds her on the banks of Lake Drummond, in the Great Dismal Swamp,

These novels directly crosses over to the original series O.C.L.T. – where Donovan is a sometimes consultant. It features appearances by Geoffrey Bullfinch and Rebecca York, O.C.L.T. agents, as well as Old Mill, North Carolina's own Cletus J. Diggs.
Giveaway:

Enter below to win (1) Ten dollar Starbucks Card and a David N. Wilson Book Collection, and (5) Books from the author, winners' choice.