Today, I am happy to be one of the many stops on Jean Rabe's The Dead of Summer Blog Tour!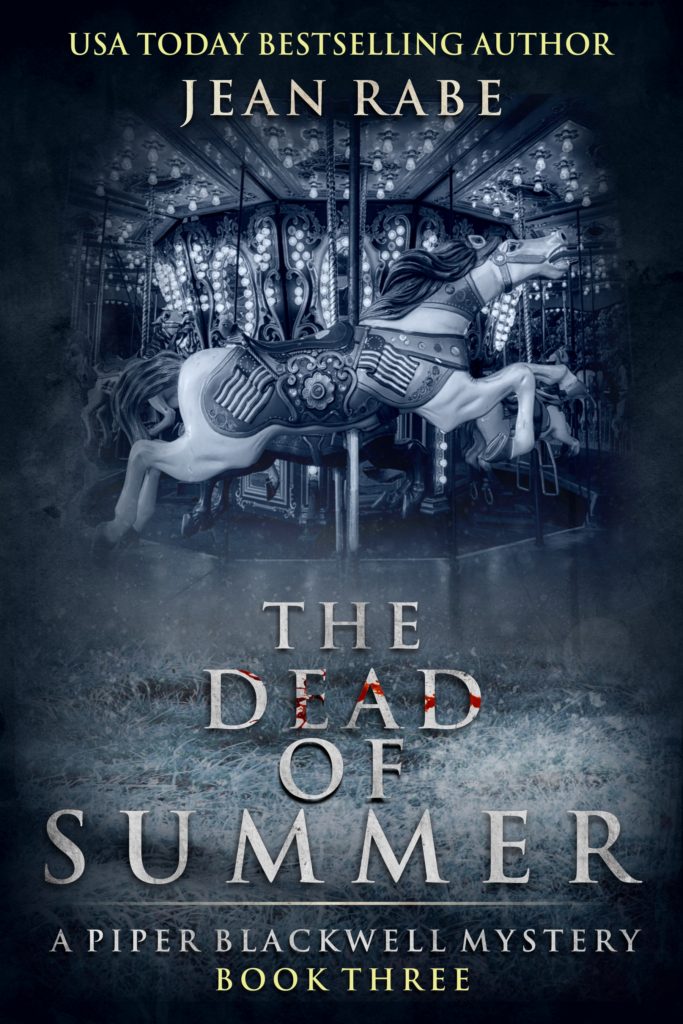 Jean was kind enough to stop by for a quick Q&A, and an excerpt. Be sure to stay for the end credits, to get in on an awesome giveaway!
Over to you, Jean!
ME: If you could give "Past You" one piece of advice, what would it be?
JR: Move to someplace tropical right after college graduation and grab whatever jobs you could find until landing a newspaper beat or other writing gig. In reality I latched onto a newspaper job before I graduated, and that was in Quincy, Illinois. A nice enough town, but I'm a tropical soul. I crave summer, sun, breezes … and I basically hibernate during Midwest winters. Really … I seriously dislike the cold. So I'd tell my past self to go where the weather suits your soul and work your heart out until everything else falls into place. Find your happy place. My younger self was too serious and responsible … my older self regrets that earlier lack of impulsiveness and daring. Life is way too short to be so serious and responsible, eh?


ME: Do you see any issues in your genre and how are you addressing them?
JR: Hmmmmmmmm, interesting question. An issue I've noticed with some new writers in the police procedure mystery field is lack of quality … not in the writing, but in the research. I'm lightning quick to grab new novels by veterans Michael Connelly, Robert Crais, Lee Goldberg, Tami Hoag, and the like because they know what they're writing about. They know about guns, ammunition, police procedure, and when villains should be read their rights. I'm much more cautious about picking up a writer new to the game because several of the ones I have tried don't get it right … their characters collect evidence incorrectly, don't know how to process a crime scene, put the wrong bullets in the wrong guns, etc. In short, they haven't done their research. Admittedly, some of these books are from smaller presses, and it is likely the editors or proofers are not versed in police procedures either. But I like my fiction to feel real, and so I don't bother to finish these books. And I don't pick up a second by those authors; one chance is all you get in this crowded market. Sooooooooooooo many books published today, an author better get it right to keep selling. At least to keep selling to me.
How do I address it in my writing? I had an advantage of starting out as a reporter, and I often covered cops and courts. I have police friends and a county prosecutor I turn to for advice, and who graciously will read sections of my work to make sure I've got it right. I have books on forensics and firearms. And one of my police buddies sent me boxes of law enforcement manuals. I want my novels to be authentic in their procedure, and I'll put in the time to do it.
Interestingly, when I started my Piper Blackwell books, I thought I was writing cozy mysteries. A couple of agents corrected me, saying they were police procedurals … cozy police procedurals … and that there wasn't a category for cozy police procedurals. Huh. I like writing them.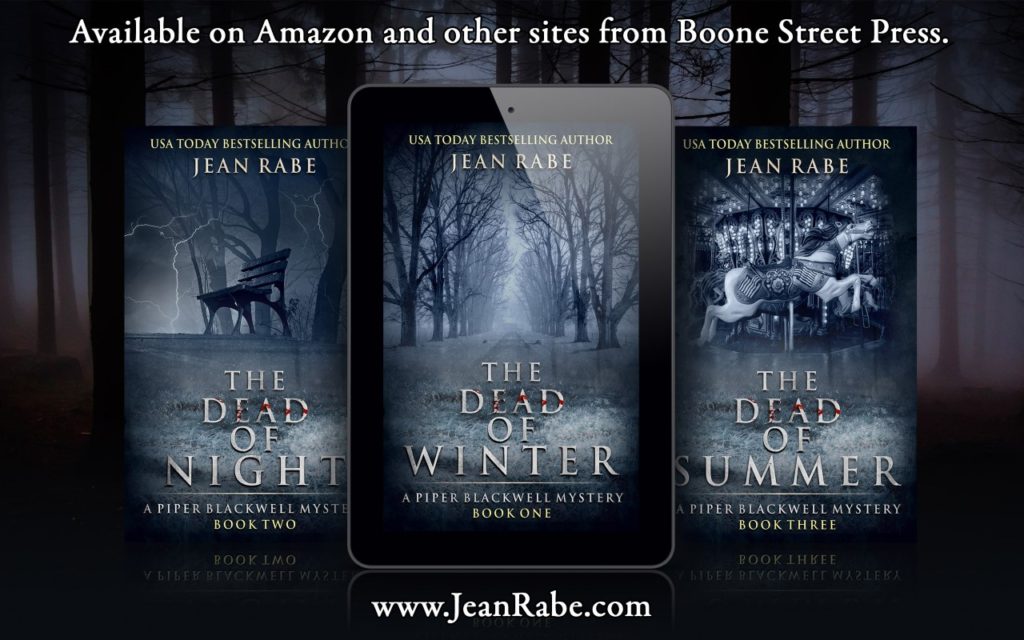 ME: What is one thing that you've done for research that you've struggled to explain to a non-writer?
JR: The need for hands-on research. Many of my friends think all Ido is sit at a keyboard and write … and take breaks to Google aspects of my topic. Sure, I do a lot of research on the computer. But I'm an old-school news reporter at heart, and I generally learn more from talking to an expert … a detective, sheriff, coroner, politician, etc. … than by reading articles on the internet. Cultivating personal sources for my fiction writing has made my stories better and more authentic. Yes, it takes extra time—sometimes a lot of hours, but it is nice to back away from the computer once in a while and go old-school. In my new Piper Blackwell book, she deals with a situation at the county fair. I spent hours at a county fair, parked at a picnic table with my notebook, recording the sights, sounds, scents, clothing, conversations—and drinking Lemon Shakeups. Some people don't understand the value in face-to-face information gathering sessions … neither do some young writers in the classes I've taught. One such soul said she didn't have time to waste on that kind of research.


ME: Which of your characters would you least want to meet in a dark alley? Conversely, which of your characters would you want at your side in that alley?
JR: Pob was a villain in a novel I wrote with Andre Norton—Return to Quag Keep. I wouldn't want to meet him in a dark alley. Liquid evil, the shadows were his friends. You wouldn't walk out of that alley; he would consume you. Nasty, nasty sludgy monster.
On the human side, I'd stay away from alleys with my current villain in it. Said character sees to have no mercy. Shivers. And said villain apparently likes to inflict pain. Yeah, shivers.
By my side? Basil Meredith. The new detective for the Spencer County Sheriff's Department is a former Chicago cop. He's big, tough, savvy, and has lots of experience. My main character, Piper, would be good in that alley, too. But Basil's tougher … and Piper knows it.
ME: What went into the creation of Piper Blackwell?
JR: The character? A lot of research. I knew I wanted to write about a young person who wins an election into a difficult job. In the beginning, Piper was going to be a coroner. I'd discovered a couple of states that the age requirement for coroner was eighteen. After compiling some information, I determined I didn't want to write about a hero coroner, and instead looked at law enforcement. In Indiana, a sheriff could be twenty-one. I made Piper twenty-three instead so she could have a four-year background from the Army, then have time to campaign before the election. She'll turn twenty-four in her fourth adventure … it'll be a killer party. I dug into states and counties that had young sheriffs, how they got elected or appointed, minimum requirements, etc. Next, I called Fort Campbell in Kentucky, as that's where I'd had Piper do her basic training. I talked to a great public information officer. He and some of the soldiers in his department helped me build Piper … create her training program and Military Police background. They detailed the tours in the Middle East she could have been on, and the types of dangerous down range assignments she might have had. Piper feels real and is plausible because of their assistance.
###
Thank you, Jean for stopping by and answering some questions for us!
Here is an excerpt from The Dead of Summer!
Her head pounded from the buzz of voices.
"There's the sheriff."
"Sheriff Blackwell! What happened?"
"Are those kids dead? Sheriff, are they dead?"
"How many are dead?"
"What the hell happened?"
"Spacker! I think Spacker was one of them! Spacker!"
Piper tried to spot who shouted the last bit, but it was all too confusing and the voices competed for her notice. Maybe Spacker was the one smashed on top of the cotton candy van.
The air was dead and dusty, the breeze non-existent, and everything felt close and uncomfortable. The throng seemed to have thinned by half, and in the background she saw people shuffling toward the main exit. But too many were still sticking, craning their necks or taking pictures, texting, talking. All Piper heard was the susurrus of voices filled with grief, disbelief, and mostly morbid curiosity… and the loudspeaker droning: "The fair is closing. Exit the gates."
She still couldn't see the woman who'd mentioned "Spacker." Maybe that was a nickname. Piper reached inside a department car parked nearby and used the PA.
"You need to leave the fairgrounds. The fair is closed." She repeated it, satisfied that a few dozen caved to her announcement. "I'm not kidding. Go home. Now!" More acquiesced. "Or I'll charge you all with trespassing." Even more left.
A country concert had been scheduled for tonight. It would have started at seven. The fair rarely had musical acts, but a Rockport native was charting big out of Nashville. According to the newspaper, he was in town for his parents' anniversary and agreed for "old time's sake" to put on a show here, no doubt the reason for the large turnout. Piper had never seen this many people at the fair. Oren, a country music fan, had mentioned the concert earlier in the week. Piper and Nang had bought tickets—thirty dollars each, a bargain to hear someone who was slated for a national tour. Several in the crowd wore t-shirts with the singer's mug splayed on them, and the words: Sic Me Another in bold type, the title of his first chart-topping hit.
Piper noted that Millie had her cell phone out and was moving among the stragglers, having them email any videos they'd captured of the ride coming apart, and recording their comments.
As Piper neared Basil, she saw that he was doing the same.
"You're really with the sheriff's department?" a middle-aged woman asked Basil.
"He's the department detective," Piper said as she stepped up.
Basil was black, and thereby distinct in basically white Spencer County. He was also muscular and handsome and would do well on the cover of GQ. He'd been in the county nearly a month, hired away from the Chicago Police Department. He lived in Santa Claus, about a half-mile from Oren.
"What did you see? Hear?" Basil held his recorder as he questioned her.
"I heard someone yell that it was going too fast, Detective," the woman replied. "I heard them yell: 'Slow it down. Slow it down.' I got it on my cell phone, the whole thing happening. I don't know for the life of me why I recorded it. Not like me, you know. Ugh. Good thing you stopped me before I deleted it. Though I'm not sure how to delete stuff. I don't want it on my phone. You look at it and then delete it for me, okay?"
"Yeah, I heard the 'slow it down,' too. Then I heard this BANG!" said the man with her. "And screaming. I saw a car fly off, then another one. But first I saw people fly out, two of them. Flying. One must have been tossed more than a hundred yards. Flying. We wasgonna get in line for that ride. Now we want to go home. We can go home, right? We don't have to stay here? All those announcements. We should leave. Trespassing? The fair's closed, and—"
–And you'll have to pick up a copy of The Dead of Summer to find out what happens next…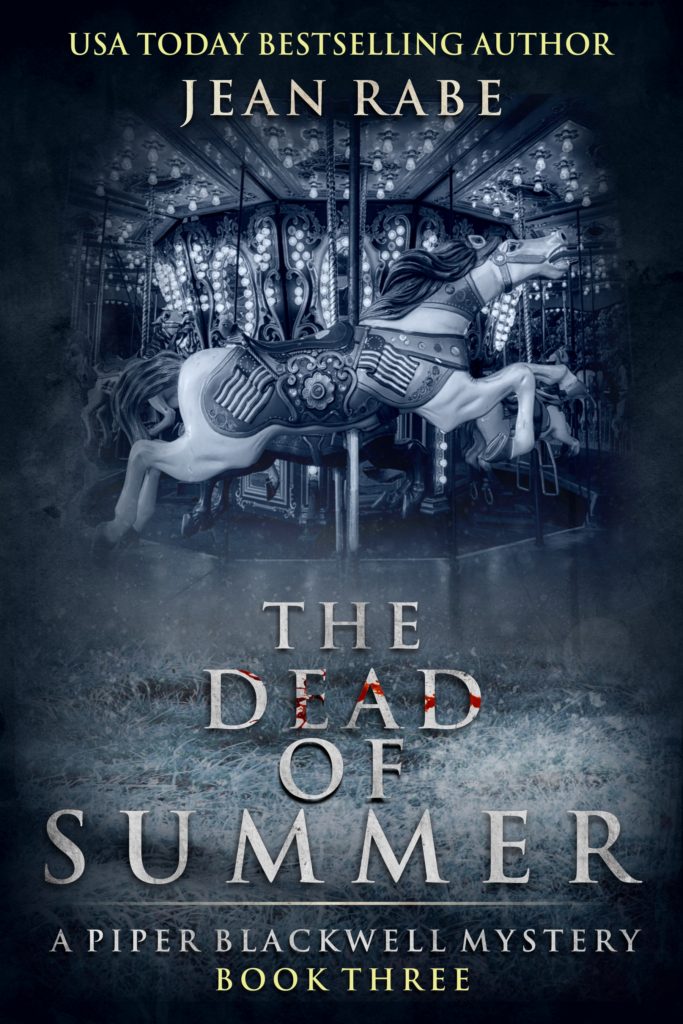 You can pick up your copy of The Dead of Summer here:
Jean Rabe … Mysteries, Suspense, and Uncozy Cozies
I WRITE…A LOT.
And I write with dogs wrapped around my feet. I get to wear sandals or bedroom slippers to work, and old, comfortable clothes. When the weather is fine I get to write on my back porch. I love summer. I am working on promotions for The Dead of Summer right now, the third in my Piper Blackwell series. It has a nifty cover … which fits where the story kicks off. The first two books in the series are The Dead of Winter and The Dead of Night. Yeah, someone ends up dead in each book. Gotta have a death to make it a murder mystery. and I put a good amount of death in this latest book.
I started getting published when I was 12, studied journalism at Northern Illinois University, then went to work as a news reporter…eventually for Scripps Howard, where I managed their Western Kentucky bureau. Getting itchy feet, I moved to Wisconsin and went to work for TSR, Inc., the then-producers of the Dungeons & Dragons game. I dipped my itchy feet into the fiction pool and wrote Dragonlance novels for several years.
I've written forty SF, fantasy, mystery, and adventure novels (including a couple of ghosted projects), more short stories than I care to count, and I've edited magazines and anthologies.
Right now it's all about mysteries…thrillers, suspense and uncozy-cozies. I had to change genres from SF and fantasy 'cause my feet were itching again and I needed to do something different.
I attend game conventions–as I am a geek about boardgames and rpgs, work as a mentor for graduate-level writing students, and toss tennis balls for my cadre of dogs.
Visit Jean's Amazon Author Page
Subscribe to Jean's Newsletter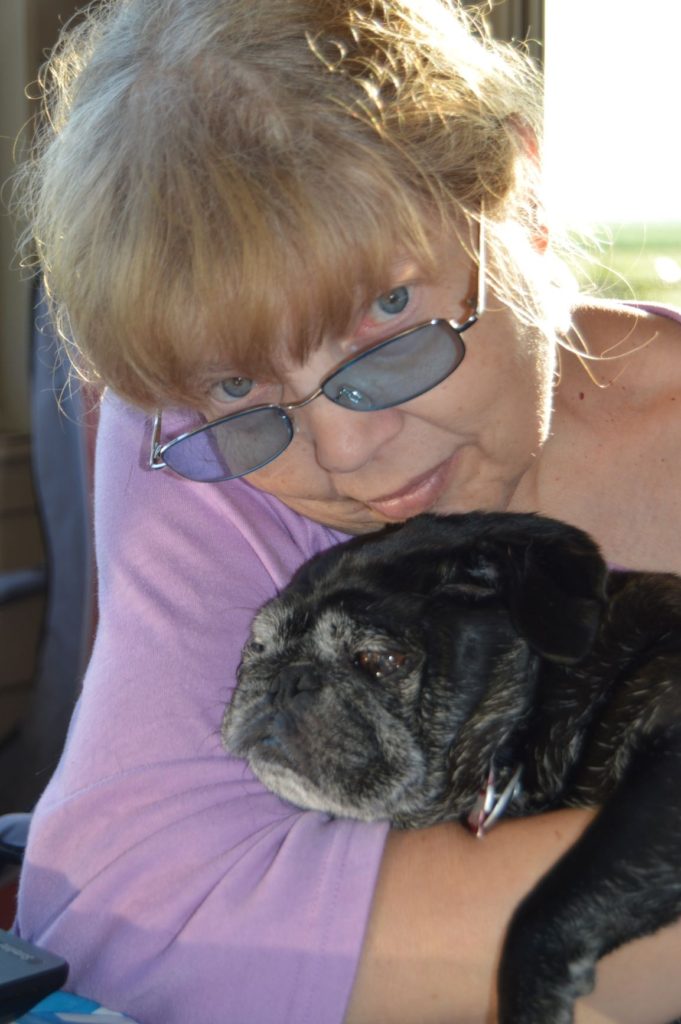 Big thanks to Jean for stopping by! Now for a…
Giveaway!!!