Happy Sunday (what's left of it) Everyone!. I hope you enjoyed the weekend.
So here we are, at 8:30 in the evening. In an ideal world, I'd have been reading for a half hour already and looking forward to another 15-20 minutes, before getting ready to hit the sack, so I can get up at 5:00 AM to write.
But this blog is, if nothing else, intended to shine a light on the everyday life of a writer. So here I am: scarfing down dinner, and trying to type around the plate in front of me while not getting my forearms in the spaghetti sauce.
I have no idea where the day went. On the plus side, I did get my writing done for the day, so I don't need to worry about that.
It's the authoring part that's taking a hit now…the writing will probably take a hit later – as in tomorrow morning. But we'll see.
Sometimes a day can get away from you like that, and that's ok. You do what you can and take steps to prevent it from happening again.
Until it does.
And it'll be ok then too.
Just keep on Keeping on.
###
Be sure to stop by on Monday for the next round of Two Questions With…(The Halloween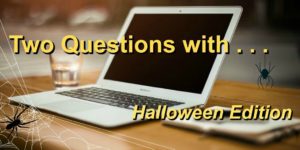 edition). This time around I'm Hosting:
You'll want to give her answers a read. You'll be glad you did.
Be sure to stop by the Freebies page for story Excerpts.
And for the full schedule of the Two Questions With… Blog tour, stop by my Events page.