If you've followed my blog for any length of time (Thanks!), you know that I've got a weekly feature called Five Thing Thursday. This week, I'd been kicking around ideas for today's post and I thought – in the spirit of Five Thing Thursdays, I'd talk about five things we can all do while we're hunkering down, waiting for pandemic season to pass us by.
(Note: Self-isolating, social distancing, and washing your hands are all givens here. As is taking care of yourself and being an extra good human being.)
Quite unexpectedly, things exploded. I had this list of five things and I wanted to offer five recommendations, then I wanted to talk about them all.
It was then that I realized that to cram all that stuff into a single post would not only be asking too much from you, Reader, but it would also muddy the waters for the individual recommendations.
So I decided to break it up into parts and here – before your very eyes – I present Part one of Five things you can do while you're Self-Isolating.
Thing #1: Read a Book!
This should come as a surprise to…well, absolutely no one. I *Love* reading, and while you're behind closed doors, you can crack open a few doors within these pages and take a quick peek.
Be warned: You might be tempted to crack that door open a little wider – just to get a better look, that's all. Do that, and there's no telling where you may be swept off to…
Blogger's note: In some of these cases, these are part of multiple-book stories. I am utterly unrepentant for the amount of time you're going to spend in those worlds as a result of my actions here. Ye have been warned…
A Big Ship at the End of the Universe by Alex White


Boots Elsworth was a famous treasure hunter in another life, but now she's washed up. She makes her meager living faking salvage legends and selling them to the highest bidder, but this time she might have stumbled on something real–the story of the Harrow, a famous warship, capable of untold destruction.
Nilah Brio is the top driver in the Pan Galactic Racing Federation and the darling of the racing world–until she witnesses the murder a fellow racer. Framed for the murder and on the hunt to clear her name, Nilah only has one lead: the killer also hunts a woman named Boots.
On the wrong side of the law, the two women board a smuggler's ship that will take them on a quest for fame, for riches, and for justice.
I loved this book. It took my two jams: Space Opera and Fantasy and smashed them together like two planets hitting each other. And there's a spot of romance – what could be better?
2. His Dark Magic by Pat Esden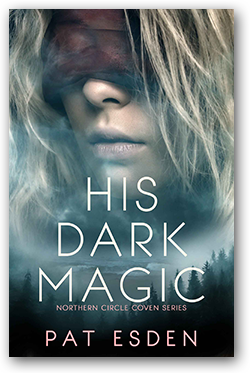 One tragic impulsive mistake made Chloe Winslow an outcast to her influential magic family. As a medical student, she wants to combine science with sorcery to heal those she hurt and right her wrongs. But brilliant, charismatic Devlin Marsh re-routes her plans with a once-in-eternity offer: membership in the exclusive Northern Circle, a mysterious Vermont coven known for pushing the limits.
Enthralled by Devlin and their mesmerizing mutual attraction, Chloe makes a dangerous sacrifice to help the Circle's high priestess awaken Merlin himself—and learn his timeless cures. But a foreshadowing soon causes Chloe to doubt the Circle's real motives, as well as Devlin's…
Now Merlin's demonic shade is loose in the human world, while Chloe and Devlin's uneasy alliance will pit them against ancient enemies, malevolent illusions, and shattering betrayal. And with the fate of two realms in the balance, Chloe must risk her untried power against a force she can't defeat—and a passion that could destroy her.
Full disclosure: Pat is a friend of mine. Having said that, I turned down the opportunity for a free ARC of this book to purchase it, and the story was worth every penny. If you like Urban Fantasy, go put it in your eyeballs. You'll be glad you did. Then you'll be glad that Book Two is out.
3. What Does This Button Do? by Bruce Dickinson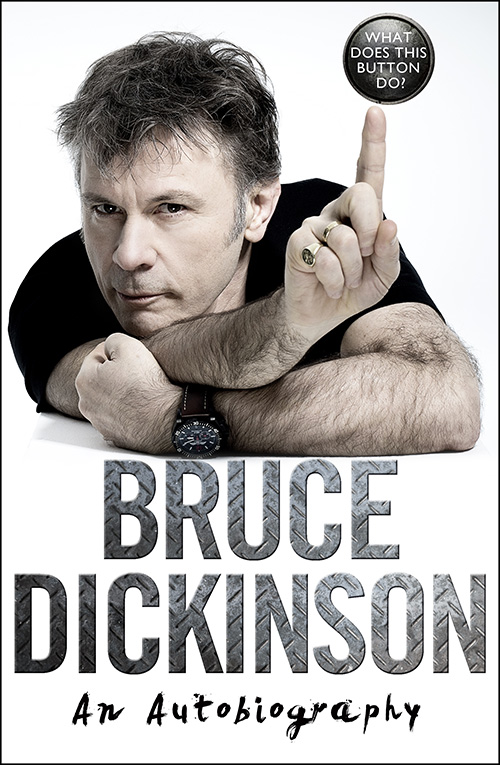 One of the world's most storied musicians, Bruce has lived an extraordinary off-stage existence too. A true polymath, Bruce is, or has been, an airline pilot and captain, an aviation entrepreneur, a beer brewer, motivational speaker, film scriptwriter, twice-published novelist, radio presenter, TV actor and a world-class fencer.
Now, for the first time, Bruce tells his story in his own words. In WHAT DOES THIS BUTTON DO?, Bruce (a man who famously never gives interviews about his personal life) shares the most fascinating recollections, including his thirty years with Maiden, the early days, his childhood within the eccentric British school system, going solo, realising his dream of flying jumbo jets and his recent battle with tongue cancer. Bruce Dickinson is so much more than the frontman of one of the biggest bands on the planet. A rock icon, a true renaissance man, Bruce has been, and remains, a man of legend.
You don't need to be an Iron Maiden fan to enjoy this book. It helps, but Bruce is open, honest, and – more than anything else – entertaining.
4. Flotsam by R J Theodore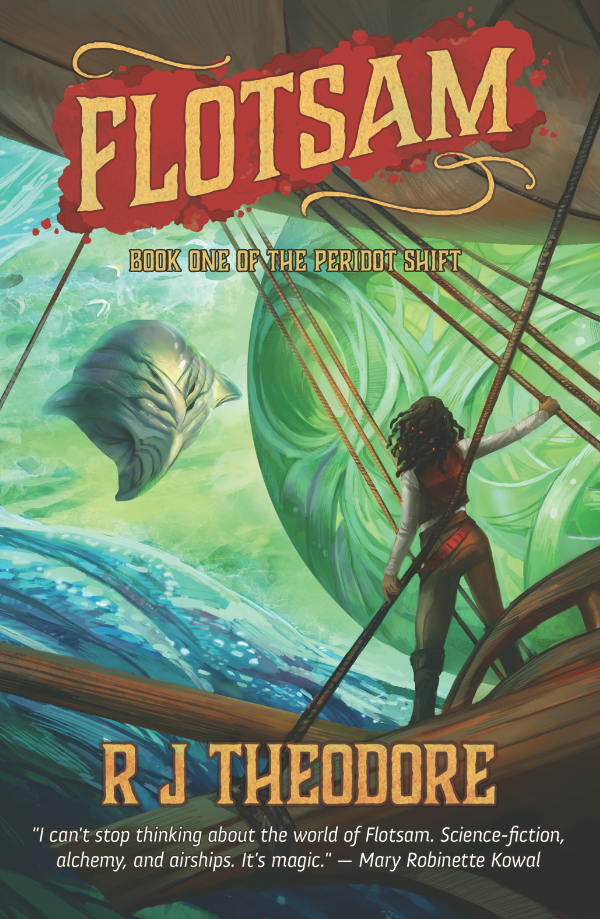 Captain Talis just wants to keep her airship crew from starving, and maybe scrape up enough cash for some badly needed repairs. When an anonymous client offers a small fortune to root through a pile of atmospheric wreckage, it seems like an easy payday. The job yields an ancient ring, a forbidden secret, and a host of deadly enemies.
Now on the run from cultists with powerful allies, Talis needs to unload the ring as quickly as possible. Her desperate search for a buyer and the fallout from her discovery leads to a planetary battle between a secret society, alien forces, and even the gods themselves.
Talis and her crew have just one desperate chance to make things right before their potential big score destroys them all.
I just have one word to say about this book: Sporkpunk.
Ok, I've got more than one word to say about this book. Flotsam had me hooked from page one. I've got a physical copy of this book and it sits on the bookshelf that I look at when I'm looking for inspiration as a writer.
5. Salt+Stilettos by Janet Walden-West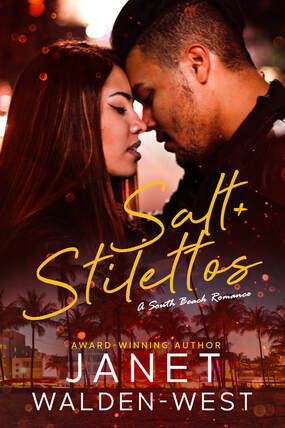 Brett Fontaine learned early that appearance matters and not to count on anyone but yourself. Trading her red-dirt roots for the title of Miami's go-to image consultant, she refuses to let anything jeopardize her new life.

Not an influential client-turned-stalker who's up for parole.
Not post-kidnapping panic attacks.
Certainly not the stubborn, attention-phobic chef she's challenged to transform into a celeb in ninety days.

Will Te'o can almost taste the dream he sacrificed American Samoa, culture, and cherished family ties for—opening a four star restaurant in the most cut-throat culinary location in North America. Unfortunately, that requires navigating it's equally cut-throat social scene. When his first public performance ends in a social media spectacle, his only option is turning to the stiletto-wearing nemesis who's invaded his kitchen.

Neither expected to share anything but barbs, yet somewhere between accidentally bonding over comfort food and office-wrecking sex, they're named South Beach's hottest pairing. Until Brett's stalker engineers a reputation-shattering reveal. She may be going down, but she's not taking Will's dreams with her. Now Will's pulling out all his new skills and cooking up a last-ditch event. He'll prove to Brett that relying on the right person makes for the perfect recipe—or be left heartbroken in the spotlight.
OK, more Full Disclosure:
First, this book hasn't been released yet. There aren't even pre-order links to make grabby-hands at – and I am *So* making grabby hands. Why am I including it in this list, you may ask? Well, I want to put it in front of you because there's a rule of marketing that says that folk will need to encounter something 7 times before they decide to buy. This is once.
And, honestly, if I've got to suffer and wait, then so do the rest of you.
Secondly, Janet has been my friend and Critique Partner ever since I've started taking storytelling seriously. This is her debut novel and I could not be happier or more proud of my friend and I want to help her knock this book out of the park!
###
This wraps up my Five Book recommendations to keep you warm and take you away while in the safety of your own home.
I'll see you on Thurs–
Wait…what?
Oh, there's one other bookish thing you could do:
Leave a Review!
If you liked any of the above books – or any book, really – Please tell someone about it. You can do this, too, from the safety of your own home. Hop on Twitter, or Goodreads, or Amazon, email everyone in your contacts list, Shout it from the rooftop (Which is now a socially acceptable thing to do). Word of mouth sells books, and we all need more stories.
I'll see you on Thursday. Be Excellent to each other.
###
Be sure to check out the Freebies Page for story Excerpts.
If you've read, and enjoyed any of my books, please consider leaving a review: