Happy Friday Everyone!! We made it!
I don't mind saying that this week has been a bit of a train wreck. I'm feeling self-induced pressure to produce. It's not like I haven't been working, but it's been a struggle. And I really need to work on planning and balancing things. And I'm still all over the map when it comes to sleep which has significant knock – on effect when more than one day gets away from me.
So I'm taking my foot off the gas tonight and start over fresh on Saturday.
Here's how the week broke down:
Saturday: 542 Words.
Sleep: 7 Hours and 30 Minutes.
Sunday: 1035 Words.
Sleep: 8 hours and 30 minutes. Clearly I'm still all over the place when it comes to a regular schedule.
Monday: 500 Words. This was a hybrid day, little bit of writing on the computer, and more writing longhand.
Sleep: 6 Hours and 30 minutes. Wrong Direction.
Tuesday: 319 Words
Sleep: 6 hours and 30 minutes. Here's where things start to suffer.
Wednesday: 254 Words.
Sleep: 7 hours and 30 minutes. Here I am starting to claw my way back.
Thursday: 0 words.
Sleep: 8 Hours and 30 Minutes. I gave up. started paying off that sleep deficit.
Friday: 500 Words. More than a little editing here. I've been struggling to set up a scene properly – Picture trying to get a lighter to work in the wind and you've got a pretty good idea of the process: Spark, spark, spark… The good news is that it finally caught and I can move on. The bad news was that I had to leave for work almost immediately after. SO I'll pick back up on Saturday.
Sleep: 7 Hours and 30 Minutes.
I know I've been pushing for a solid eight hours of sleep, but Life is currently pushing back on that schedule. So I'm easing back to the 7.5 hour schedule. As long as I can stay consistent, that should see me through the end of the week.
What am  I reading this week?
I gave up on Vanguard. I won't go into detail, to avoid unduly influencing prospective readers, but it wasn't for me.
I'm currently reading Star Wars: Rogue Squadron by Mike Stackpole.
Space Opera by Cat Valente
What am I listening to this week? The Galactic Suburbia Podcast.
How have I been relaxing and refilling the well? Haven't been doing much of that this week outside of reading. Tonight I'm going to spend a bit of time Gaming
This Sunday, I'll be pulling for Leinster Rugby in the European Champions Cup as they play Toulouse  Go Leinster!!
###
Be sure to stop by on Sunday for the usual blog post!
Stop by the Freebies page for story Excerpts.
Also check out the Events page for info on the…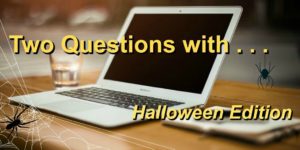 Blog tour that is going on during the month of October!!!